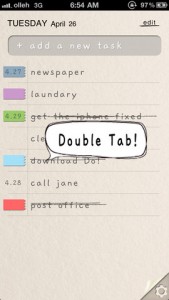 I've checked out a ton of different to-do apps recently. I'm still trying to find the app that's perfect for me. I'm picky, I guess. The most recent productivity app I decided to check out is called Do! – The Best Simple To Do List, developed by Su Won Shin.
What is it and what does it do
Main Functionality
Do! – The Best Simple To Do List is a to-do list app that aims to un-complicate the to-do list process. Perfect for analog junkies, Do! features a realistic interface that makes you feel like you're writing with a pen on notebook paper.
Pros
Works in both portrait and landscape orientation
Simple to add new items
Password function for privacy protection
Fun, approachable design
Great assortment of fonts lend readability and personality to the app
Easy to prioritize with color-coded tags
This app works best for daily to-do lists or planning the next two days of your life. However, if you're into long-term planning, this app's calendar view is great for that, too!
Cons
Annoying ads (they cane be removed for 99 cents, however)
App contains a few typos here and there
The "scratching pen" sound effect is kind of annoying (your mileage may vary)
You can't drag and drop items on the list to re-organize your to-do's by priority
Discussion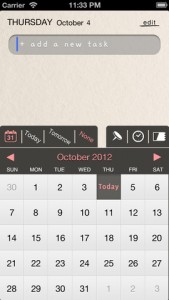 Do! – The Best Simple To Do List has some cute fonts that mimc handwriting, and that goes a long way towards making this app feel like it has a bit of personality. But the look of this app is just part of the appeal. The real greatness comes from the functionality.
Adding a new item to your to-do list is really simple: just a single tap, and you can start adding details. You can double tap an item to give it a strikethru, or swipe to one side to delete it entirely. When you are adding a new task, it's just a matter of one extra tap to add a priority flag, or a due date.
One thing I wish I could do is drag and drop items on the list. However, the app does offer a pretty decent auto-sort feature. This will move completed tasks to the end of your list, and place items with a due date in order at the top of the list.
One thing that isn't quite right about the sorting method: to-do list items with no date get stuck below dated items and items with strikethrus. Flagged items, for some reason, end up at the bottom in auto-sort mode as well.
Conclusion and download link
If you want a to-do list app that has a little bit of analog charm, Do! is a productivity that looks great and is easy to use. The blend of calendar view, daily view, and tomorrow planning works really well, and it is simple to stay organized while using this app. Do! – The Best Simple To Do List is worth checking out.
Price: Free
Version reviewed: 5.0.0
Requires iPhone/iPad/iPod Touch, iOS 4.3 0r later
Download size: 40.6 MB
Do! – The Best Simple To Do List on Apple App Store
Related Posts