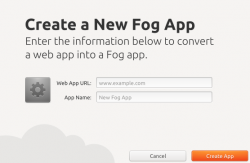 Ever been to a website that you'd like to see on your desktop? Most websites nowadays are built more like full featured applications, and sometimes they're an annoyance when opened up in a tab on your browser. When you install Fogger to your favorite flavor of Ubuntu, you'll be able to break that web app outside of your browser.
WHAT IS IT AND WHAT DOES IT DO
Main Functionality
Fogger is program that can create standalone web applications on your Linux desktop. It other words, it allows you to download websites and use them as "web apps" on your desktop. Confused? Check out the following short demo of Fogger:
Pros
Can download pretty much any website
Uses Gnome's web rendering engine
Desktop icon support
Can use userscripts (Inside your Fogger app: Preferences > Customization)
Instead of merely acting as a web browser, Fogger supplies a framework for websites, apps and other services. These websites, apps and services can use this framework to communicate with Ubuntu.
Supports NotifyOSD notifications
Users of other distros (though not supported) is supported via the source files and compiling them (you can also use Alien and convert the Debian package files to other formats)
Cons
Sometimes very buggy
Does not use a more standardized rendering engine (webkit, gecko)
Does not support any other distro officially
Discussion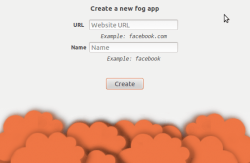 Fogger is a great app. A lot of people agree with me, so much in fact that it won second prize in the 'Ubuntu App Showdown'. Fogger allows you to create web applications with ease. I have a lot of love to give to Fogger. As soon as I found out about it I installed it instantly. It was in Alpha stages then but it was very good for what I was getting.
I'm pretty happy to see the userscript support. By allowing this the developer is helping his users further customize their web applications. Userscripts are very powerful. I'm also excited to see that Fogger supports both custom icons and the NotifyOSD function. This can help immensely if I were to write a custom app with user scripts, and used a website as a mere framework, I could integrate notifications. Fogger has so much to love.
With all the love I have to give Fogger, it does come a bit one sided.The developer has only supported Ubuntu/Debian officially. So if your Linux distro does not use a Debian packaging system, the odds of you getting to use Fogger are not impossible (this is Linux after all), but they are a bit disheartening. Another issue I have with Fogger is the simple fact that it's based on the Gnome HTML renderer. Now, I'm sure this developer had his reasons, but seeing as how things like webkit exist (and are open source), and the fact that the web is mostly catered to webkit, I'm really not sure why he decided to pass it up.
All in all, Fogger is an excellent app. The features are pretty cool, and it's something that I've been playing with ever since it's inception. This is the kind of program that is fun to play with, but is also great if you're looking to create a web app for serious productivity. Fogger is obviously still in development, but with every release the developer is  adding more and more features that improve it. This is a must have program for Ubuntu geeks and casual users alike.
CONCLUSION AND DOWNLOAD LINK
If you're in need of a way to create web applications in Ubuntu, Fogger is perfect for you. Fogger has tons of cool features, is easy to use and understand. This is something that you really need to at least check out. Who knows, this could be exactly what you're looking for.
Price: Free
Version reviewed: 0.2.3
Supported OS: Linux Ubuntu/Ubuntu derivatives
Note: If you don't use Ubuntu, package files on Launchpad can be converted to run on other distros with Alien. Source is also available for compilation.
Supported software repositories: Ubuntu/Ubuntu derivatives
Download size: 1437 KB
Is it portable? No
Related Posts