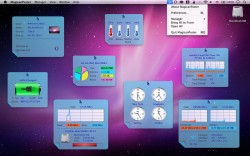 Have you ever blindly accepted a recommendation from a friend, and later wondered if it was the right call? My current Mac system monitor is a program a friend recommended to me way back in 2008, and I haven't switched since. I like it just fine. But lately, I've been wondering if I shouldn't have tried out a couple of other similar apps. That's why I decided to check out MagicanPaster.
What is it and what does it do
Main Functionality
MagicanPaster is a system monitor for your Mac. Keep tabs on your RAM usage, network, battery health, and more. The app also gives you easy access to information about your Mac, such as your serial number, OS info, IP address, and info on your last boot.
Pros
Mointors CPU usage, RAM usage, hard drive usage, network usage and speed, temperatures, and battery level and health
Select your choice of skins
Customizable time clocks: you can see the time in up to four cities from around the globe
System data is displayed across numerous windows: you can close out of the windows with data you don't want to monitor
Data windows can be moved all over the screen to where it is most convenient for your workflow
It's simple to change the refresh interval and history time line for charts
Battery alert is provided when your battery drops below 20 percent (this can be customized)
Cons
System data is displayed in multiple windows, rather than in one streamlined display
Couldn't find a way to change temperature readouts from C to F (and not all temperature displays had a readout)
You have to transmit your serial no. over the Internet in order to fill out some fields about your purchase date or coverage end date (and there appears to be no way to manually enter this info)
Discussion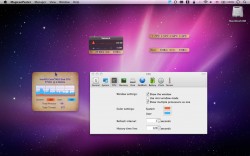 Worried about accuracy? Put your fears to rest. I cross-checked battery life, health, RAM use and more between MagicanPaster and my current system monitor widget: both apps gave identical readings.
I really like how MagicanPlaster is laid out, but I recognize that this layout won't work for everyone. Despite a great deal of customization in terms of which windows are active, which are full size, and which are minimized into bar displays, there are plenty of people I know that would much rather have everything in a single system interface, similar to what iStat Pro offers.
Also, I like the fact that you can customize both the refresh interval and history time line for all of the charts. As a whole, the information in this app is displayed in a clear, readable layout. There's pretty much every possible piece of information about the current state of your Mac that you could want, all right at your fingertips. The only thing that would improve this app would be a detailed breakdown of which apps and programs are using up your RAM, a la Activity Monitor.

Conclusion and download link
If you want a flexible, comprehensive app that will let you monitor every aspect of your Mac, MagicanPaster is worth checking out. It has a few minor annoyances…but other than that, this app is solid as a rock. It may just replace my current system monitor.
Price: Free
Version reviewed: 1.1.1
Requires OS X 10.6 or later
Download size: 5.5 MB
MagicanPaster on Apple App Store
Related Posts