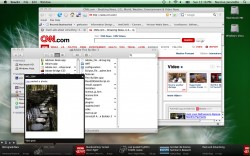 Google Reader is going away. Most folks already know that Google will be shutting the service down at the very beginning of July. While some could clearly care less about Reader retiring, the few of us who do care are frantically searching for a viable alternative. The honest truth is, there indubitably isn't one- at least not one that will provide what we're used to (I've sorted through hundreds of options, believe me). Since we're going to settle for something different anyway, we might as well try to find something fresh. Snackr is a RSS feed aggregator that displays recent stories in a news-like ticker.
What is it and what does it do
Main Functionality
Snackr is just like any other desktop RSS reader, in the sense that it pulls content from sources which you specify. Instead of displaying the content in a standard reader interface, however, Snackr displays incoming stories in a news ticker at the bottom of the screen. It works continuously in the background so that you can continue doing something else while simultaneously watching the news feeds. If a story catches your eye, a single click will open a mini window with a full preview- just like you would see in a traditional reader. If you want to continue reading the article you can open it in a web browser thanks to a convenient link.
Take note Snackr is available on Windows, Mac OS X, and Linux. We reviewed the Windows version.
Pros
Quick, responsive and relatively lightweight
Some pop-up previews display native web page, others present article previews
All necessary settings included

Refresh interval (can be customized)
Ticker speed and opacity
Can filter out items older than a designated period (default is 30 days)
Reposition the ticker location: bottom, top, left, right

You can share posts directly via several networks, including email
Can import RSS subscription files or sign in using Google account
Can favorite or "star" any item to save for later
The ticker can be minimized to the system tray at any time
Cons
Requires Adobe Air (included with install file, if you don't have it)
If you miss a key story, you may never see it again
When set to be always on top of other windows it can occasionally get in the way (luckily this option can be disabled)
Ticker theme and style cannot be customized
Discussion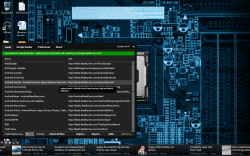 I need an RSS reader for my work. In fact, I currently use Google Reader pretty much all day every day. It only makes sense that I'm desperately searching for a viable alternative, especially the closer the shutdown date for the service gets.
Problem is I use a separate window to browse news feeds. Thanks to Windows 7, I can open two instances of a web browser and snap one window to the left half of the screen, and the other window to the right half. This can be a real pain, especially when I have to stop what I'm doing to refresh the feed or browse through it.
I'm telling you all of this because it will help you realize just what Snackr can do.
As I've mentioned above, Snackr aggregates content from different RSS feeds that you specify, and then it displays them in a stylish news ticker at the bottom of the screen. Provided you have a decent internet connection, the desktop app is responsive and light on resources. I will say that, on my setup, Snackr was using around 150MB of memory- which isn't all that terrible if you have enough installed (you certainly shouldn't be running Windows with less than 2GB anyway).
Regardless, the news ticker setup is fantastic because it allows you to do other things on your computer while still monitoring news feeds. In my case, I'm free to do my work and follow the news feeds simultaneously. Since I'm a tech journalist, I can attest that it's a pretty useful feature.
Snackr also makes use of traditional reader options. Right from the ticker, you can add new feeds, view starred items and more.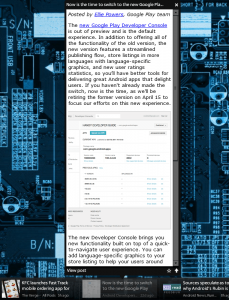 One of the coolest features of Snackr is that when you click on one of the items in the news feed a pop-up window appears. Depending on the article source, you may see the native web page for the article or you may see a preview of the article. If the preview is visible, then you have the option to open the full story in your default web browser. You can also star or favorite any post, which can be viewed later via the starred items menu. You can also share a post directly with various social networks, through email or even copy the corresponding content to the clipboard- all within the pop-up menu.
When you first load the app, you have the option to add feeds manually, import a feed list file, or even sign into your Google account. I chose the latter option and was immediately rewarded with the same feeds I'm subscribed to in Google Reader. I would suggest signing into your Google account as the most advantageous choice, but I know some folks are concerned about privacy so at least importing is an option.
The settings menu for Snackr is not exactly gushing, but all the necessary stuff is there. You can change the ticker opacity and speed, along with toggling it to stay on top of all other windows (I recommend allowing it to stay on top). There's an option to hide Snackr from the taskbar and alt + tab menu if you so desire. If you don't like the ticker at the bottom of the screen, you can reposition it to stay on the top, right or left sides, as well.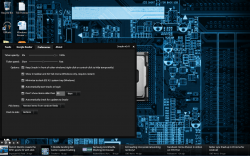 The biggest issue I have with Snackr is that once stories have passed the feed, there's no way to see them again until they come back around. Basically, you cannot rewind or fast forward the feed so if you don't catch a story at the right time then you won't see it for a while. For someone that doesn't want to see every article that comes out during the day, it's not so much of an issue- for me it's a serious issue.
By default, Snackr checks all of the necessary feeds when it first starts up and then doesn't check again for 45 minutes. Luckily, you can set this interval yourself through the settings menu.
Conclusion and download link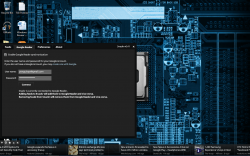 The bottom line here is, Snackr is not a suitable replacement for traditional RSS readers. If you want to catch all the key news stories that happen during the day, just like I do, then you should probably look elsewhere. However, if you just want the opportunity to peruse content casually, or to see a news feed while you complete other tasks, then Snackr is just right. It's free, and there are totally no advertisements. Furthermore, it syncs directly with Google Reader and can even import your existing RSS subscriptions (before Google Reader dies).
Personally, I will continue to use Snackr so that I may keep an eye on the feeds while I do my work. That being said, I will still use a standard reader of some kind just to cover all my bases.
Price: Free
Version reviewed: 0.41
Supported OS: Windows (XP, Vista, Seven), Mac OS X, Linux
Download size: 792KB

VirusTotal malware scan results: 0/39
Is it portable? No
Related Posts