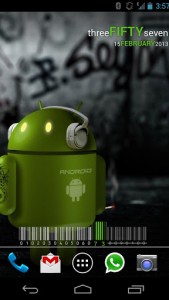 This statement is going to sound odd, but a minimal design is trendy these days. Running a minimal setup on your Android device is also highly desirable. Problem is it's hard to find a launcher or widget tray that maintains a small footprint in screen real estate. Minimalistic Text is an app that lets you customize and place widgets that use a minimal design.
What is it and what does it do
Main Functionality
Minimalistic Text allows you to put stylish widgets on the home screen that don't use flashy graphics or animations. Instead, all widgets are presented with an surprisingly minimal design. For example, you can allocate a widget that spells out the time and date in a classic text style.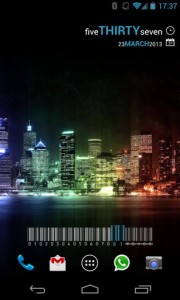 Pros
Beautiful, stylish and lightweight text widgets
Very low resource footprint, including memory and power consumption (I have no benchmarking results or stats to back up this claim, it's just an observation)
Several different widget types and sizes
Tons of customization options available
Is ad-supported but advertisements only appear in main app settings and global settings menu — not on widgets
Free version has the same functionality as the Pro version, except with ads
Cons
Customizing widgets can be daunting as the app settings look complicated (patience and time combined can take care of any issues)
Some of the widget sizes are useless (1×4 for example)
Discussion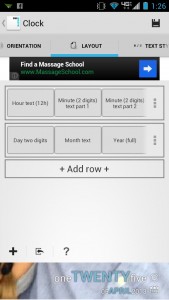 Minimalistic Text offers a fantastic way to customize and style your Android home screen. Every widget can be customized extensively, so there's unequivocally no reason why you wouldn't be able to find at least one attractive layout.
Keep in mind, however, that it's not designed to provide flashy graphics and animations. Minimalistic Text is simply for those who want to strip their home screen down to the bare minimum. When I say a bare minimum, I do mean minimum
There are several different widget types to choose from, all of which present information in a classic text format. The widgets you can use show just time, time and date, battery levels, and weather in either Celsius or Fahrenheit.
The only widget that's quite different from the others is the battery bar widget. It displays the battery level through a color coded barcode. I think it to be quite attractive, even though I rarely use battery level widgets on my device (I believe it's a bit redundant).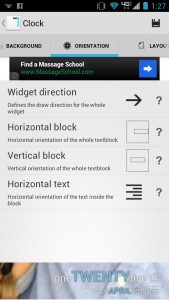 The time and weather widgets can be adjusted entirely thanks to the robust customization options. You can move around the location of various elements in the widget. For example, if you want the date to display on top of the time you can replace the default layout to suit your preferences.
The key here is customization, and there sure is lots to be had. You can change the widget background, and background colors, orientation, layout, text style, displayed content, and tap behavior (how it reacts when you tap it). In fact, there are so many different settings and options to play with, it can get a little disconcerting when you're setting up your very first widget. Here's a tip: make sure you add the widget to your home screen before opening the app, or else there will be nothing for you to customize or edit.
The pro or 'donate' version of the app is actually no different than the free version, except for the fact that it has no advertisements. The donate button has also been removed from the global settings menu.
Conclusion and download link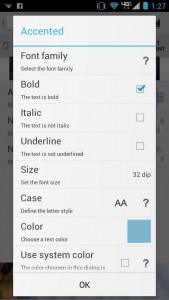 If you're tired of common widgets, or at least ones that use the same design, then Minimalistic Text is certainly worth using. The widgets work wonderfully, and they use remarkably little resources. One thing that typically happens when using widgets is that your battery drains quicker, but I didn't notice any difference on my device, which is always a plus. The biggest issue with Minimalistic Text is setting up the widget layouts themselves and customizing their look. It can be an incredibly daunting task at first, but with a little bit of patience you can have a pretty lovely home screen in no time.
Price: Free, $1.99 (Pro version)
Version reviewed: 3.0.10.2, Varies with device
Requires: Varies with device
Download size: Varies with device
Minimalistic Text on Play Store
Related Posts