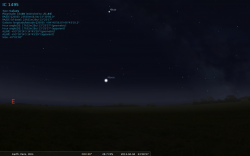 Since I was just a little squirt I've been fascinated with the stars. It blows my mind every time I stop and think about how massive the universe truly is. One of the most prominent ways to geek out is to grab an old fashioned telescope, sit in the dark somewhere and stargaze. Unfortunately, that's not possible everywhere- especially since light pollution is a serious problem these days. Luckily, that's why planetariums exist. Stellarium is a totally free and open source digital planetarium for Windows.
What is it and what does it do
Main Functionality
Stellarium is essentially a personal planetarium that can be viewed directly on your computer screen. There's no need to travel far into the country, or pay for admission in order to see the starry night sky. While using the app, you can browse through an incredibly realistic model of the night sky- it looks just like the real sky would if you were gazing with the naked eye, through binoculars or even through a telescope.
Take note Stellarium is available on Windows, Mac OS X, Linux, and Android. We specifically reviewed the Windows version.
Pros
Tons of stars, constellations, planets and nebulae to view

Plenty of resources and helpful information about the software
Incredibly minimal and attractive user interface
Automatic location detection
Lots of useful shortcuts and hotkeys
You can locate particular objects with a search feature
Works on Windows, Mac OS X, and Linux, and has Android app
Cons
There's a steep learning curve to use Stellarium
Requires a graphics card that supports OpenGL 2.1 or greater
Discussion
Stellarium features a map populated with more than 600,000 stars in total. There are also more catalogs to download that provide an additional 210 million stars. There's a lot more to browse also, like constellations in twelve different cultures, time control modes, nebulae images, planet and moon images and more. Perhaps the coolest feature is the eclipse simulation, one that you can look directly at, unlike a real eclipse.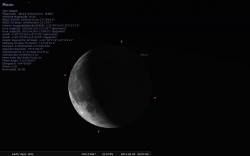 It's a digital planetarium that allows you to look at almost anything in outer space. While using the app, I actually felt like a child again, staring up in the wide open sky.
After installing and starting up Stellarium, the app will attempt to determine your current location. It can be a little slow upon startup, but patience sees you through. Unfortunately, it's not always accurate at pinpointing your location. If you run into any problems, I suggest looking up your longitude and latitude on Google Maps and then entering them into Stellarium.
The first thing you'll see is a ground level representation of your current location. Don't be alarmed, Stellarium makes use of a fairly minimal user interface. If you move the mouse pointer to the bottom left corner of the screen, an options menu will appear. Take note that this menu is where you can enter the longitude and latitude I talked about earlier.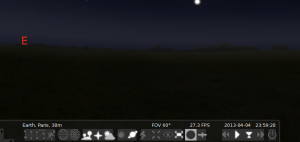 You can use the mouse or arrow keys to move the view around, and there are virtually no restrictions in terms of movement. The page up and page down keys will zoom in and out respectively. It's downright invigorating to zoom in on various nebulae and planets.
Furthermore, you can select objects with the left mouse button and center on them with the middle mouse button (hopefully you have one). If you happen to select an object by accident, you can deselect it with the right mouse button.
You can slow down or speed up time and watch the sky while it passes. If you want to find a particular object, you can just use the search tool to locate it.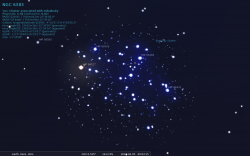 There's one significant issue with Stellarium, which can be fixed over time. It has a steep learning curve, meaning you probably won't have any clue what you're doing when you first load it up. Getting used to the app will take some time, quite a bit actually. There are a ton of different settings and options to tweak all of which can adjust your viewing experience in different ways. Luckily, there's a remarkable collection of valuable resources on the Stellarium page. If you ever get lost, want to know how to do something, or need help you can always head to the home page- there's obviously no shortage of useful information.
Stellarium is phenomenal, even more so considering it's free. It's run by an incredibly passionate team of astronomers, all volunteers working in their free time. I've said it before, and I'll say it again, open source is the way to go.
Conclusion and download link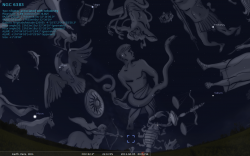 Aside from the learning curve and some minor quirks, Stellarium is an excellent app. If you've ever looked at the night sky and wondered what was out there, you'll certainly want to check this one out. Real planetariums are a rarity these days; therefore, it's unlikely you'll find one located near you. That's no issue, Stellarium will allow you to see everything you can in a traditional planetarium and more. The pan and zoom features are pretty cool, especially when you close in on a planet or nebulae. If you have some free time to spare, and 120MB of disk space then you might as well give Stellarium a try.
Price: Free
Version reviewed: 0.1.2.0
Supported OS: Windows 32 and 64 bit (XP, Vista, Seven), Mac OS X (10.6+), Linux/Ubuntu
Download size: 58.1MB

VirusTotal malware scan results: 0/46
Is it portable? No, but there is an Android app

Related Posts