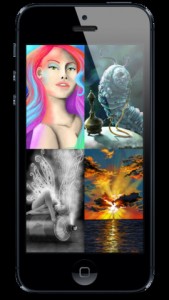 Here's your fun fact of the day: graffiti is a plural noun. That means if you are referring to just one work of spray-painted art, you should use the singular form of the noun: "graffito." But no matter what you call it, the fact remains that graffiti has a special place in the hearts of urban art fans. Tagging may have its seamy side, but some art forms are always bound to have their detractors. If you like messing around with spray paint, but don't want to tag buildings IRL, check out Spray Can (developed by rapidrabbit.)
What is it and what does it do
Main Functionality
Spray Can describes itself as "the ultimate graffiti- and painting-app for your iPhone, iPad and iPod touch." Make paintings, create your own profile, follow users and let them follow you: this app puts a major focus on creating a sense of community.
Pros
Creating works of art in Spray Can won't get you arrested like tagging a real building will
Appeals to graffiti artists as well as fans of a more "traditional" drawing and painting style
Easy, yet creative paint mode with 13 backgrounds, 54 prefabricated colors and color wheel
Shared gallery of Spray Can creations tops 6.5 million images
Tons of tools: customize your art with shapes, drips and a smoothly changeable size for lines and outlines
Cons
Some features can only be activated by "going pro," including more detailed profiles and bonus brushes and backgrounds
Banner ad placement on home screen is extremely inconvenient: the banner ad is located right in the middle of the screen, rather than along the top or bottom border!
Some artists may wish to add a signature or watermark to work posted on Spray Can: users can save a copy of an image with one tap and share it to Facebook, Twitter, or their camera roll.
Discussion
Spray Can has two main features that make it worth recommending to art lovers. Firstly, the UI is excellent: finding your way around the controls for making your art couldn't be more intuitive. Secondly, Spray Can's community galleries provide both great inspiration and great opportunities for communication.
True to its name, creating paintings in Spray Can really does feel a lot like painting with actual cans of spray paint. You can even customize the drips on your lines, and they flow just like the drips of excess paint from a too-thick line of spray paint. But Spray Can is better than the real thing in some ways: it's super-easy to add outlines to your images, or to find just the right background to display your creation upon. Finding a real building to tag is hard: Spray Can's backgrounds are numerous!
One thing that is great about Spray Can's community of artists is how simple the app has made it to find artists worth following. The "Artists" tab is organized into helpful categories such as most followed, best rated, under-rated, newcomers, and most respected. It is easy to follow their streams, or send them a message.
I do really hate the placement of the banner ad directly across the center of the screen. It's actually well-integrated into the design, but the placement is still quite awkward. It is simply too easy to accidentally tap the banner ad, and that is annoying.
Conclusion and download link
With Spray Can's development team claiming that 20,000 new images are being uploaded each and every day, this artistic app clearly has an active community at its core. In addition to a thriving community, Spray Can offers a way to create art within the app that is fun and accessible.
Price: Free
Version reviewed: 4.5
Requires iPhone/iPad/iPod touch, iOS version 5.0 or later
Download size: 10.0 MB
Spray Can on Apple App Store
Related Posts