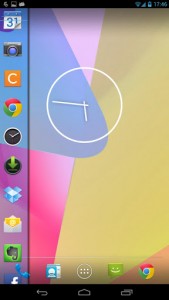 Multitasking is a large part of the Android OS. A lot of the system is specifically optimized to run multiple apps simultaneously and let you to switch between them quickly. I've always felt that it would be cool if you could jump from app to app, without ever leaving one. Trust me, I know how ridiculous that sounds but try and stay with me. What if there was a way to open a quick application tray while you were still using another app? Swapps adds a side launcher to your Android, that works from within anywhere and can be opened with a single swipe gesture.
What is it and what does it do
Main Functionality
Swapps generates a sidebar for your Android that can be accessed from anywhere with just a basic swipe gesture. It may seem unnecessary to have yet another application launcher on your device, but you actually understand how valuable it can be once you start using it. It offers various functions like a full installed apps list, favorite apps, and recently used.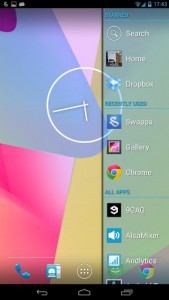 Pros
Works from within anywhere, even full screen applications and games
Accessed with a single swipe gesture, from left to right
Quick access to favorites, recent and complete application lists
Extensive customization support, although some options not available in the free version
Looks pretty good, and theme matches Android Holo theme
Can be displayed on right or left side of the screen
Cons
Advertisement at the bottom of the sidebar in the free version
Some of the customization options are locked, mainly related to appearance
Uses 32MB of RAM when running in the background, not as small of a footprint as advertised
Discussion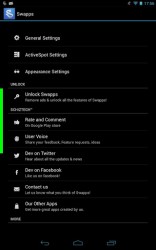 Swapps is fundamentally an application launcher, but instead of replacing the traditional app launcher on your device it runs as a sidebar. You can open the sidebar from within any application by swiping from left to right, starting at the very edge of the display and moving toward the middle. It even works from within full screen apps like mobile games.
When you open the Swapps sidebar, you instantly have access to all of the apps installed on your device. In addition,  there are several shortcut features that make it easy to find just the apps you want.
For example, right at the top of the sidebar is a list of favorites that you can customize. In the free version,  you can only select up to fifteen favorites or "starred" apps, but in the pro version you can add much more (15+). Applications, shortcuts and widgets can all be added to the starred slots. In the free version,  you cannot add widgets, but you can add custom shortcuts and applications.
Below the starred apps section is a recently used list. This displays apps that were recently used on your device. By default, the Swapps sidebar shows up to five recent apps, but it can be configured to show up to 15 of them. It's worth noting that you have full access to the whole recent list even in the free version.
Next comes the full list of installed applications, which you can browse through slowly or quickly by sliding your finger down the scroll track.
The app is actually themed to match Android, and looks good. If, for some reason you don't like the default setup, there are plenty of customization options, some of which are explicitly offered in the pro version. In the pro version,  you can choose the sidebar width, color, text color, window opacity, animations and more. Of course, the pro version is also ad free. The free version features a fixed icon at the very bottom of the sidebar advertising free apps. It doesn't get in the way at all, but I know that some folks genuinely hate advertisements.
Swapps is a remarkably efficient app and from what I can see it does not cause any significant lag or hangups of any kind even when running in the background. That being said, it uses about 32MB of RAM while running which is not quite a small footprint like the developers advertise. Other fully featured launchers like ADWLauncher EX use slightly more RAM to operate, so take that for what it's worth. If you're a minimalist and you like staying with the bare minimum at all times, then you probably want to stay away from Swapps.
Conclusion and download link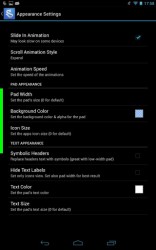 Swapps is pretty much a novelty app, but it does as advertised. If you ever have the desire to access an app from directly within other applications, then Swapps is for you. Do you need it? Absolutely not. It exists solely for convenience as do most of the apps in Play Store. Check this app out if you are in the market for something like this.
Price: Free, $2.49 for Pro license
Version reviewed: 2.0.3
Requires: 2.3 and up
Download size: 474KB
Related Posts