Image sharing and social media is a big thing nowadays, with the popularity  of sites like Facebook, having a good app that you can use to share pictures is always a must. Picturen Lite is a great app that can help you upload your images and videos to various social networking sites extremely easily.
What is it and what does it do
Main Functionality
Picturen Lite is a picture and video gallery app, a replacement for the default gallery app that comes with your smartphone and tablet. It has all the functions one would expect with a gallery app but the highlight of this app is it allows you to batch share photos and videos on Facebook, Twitter, Picasa, and Flickr
Pros
Allows you to view images and has all the basic features of a gallery app (multi-touch support, pinch-to-zoom, panning, sharing via email and other apps, sort into albums, etc.)
Allows you to play videos, including support for pinch-to-zoom, panning, and subtitles
Batch uploading of photos/videos and albums to Facebook, Twitter, Picasa and Flickr

Note: Although there is built-in support for Facebook, Twitter, Picasa, and Flickr, you can still use Picturen Lite to share single photos and videos via other apps (like Gmail or Instagram) if you have them installed — Picturen Lite supports the regular Android 'Share to' menu.

Can hide photo and video albums
Digital photo frames can be added to photos
Users are allowed to use their own custom background music in the digital photo frames
Has the ability to crop photos
Support for various themes
Cons
It would be nice to have batch support for more services, like Google+, Tumblr, or Instagram
Discussion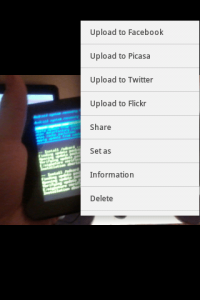 I admit it, I'm pretty interested in pictures. I usually take pictures with my Instagram app so that I can easily share to my Tumblr, Facebook and Twitter account. I love the way Instagram works because I can take a picture right in the app, apply filters, and then share to my favorite social networks. Picturen Lite, can take pictures, b it lacks any cool photo filters.
With Picturen Lite I can easily upload pictures and even video, so it's a pretty handy app. The coolest feature is the fact that you're allowed to mess around with it's digital photo frame support, and you can even use custom music. Another feature that I really enjoyed was the fact that I'm able to hide certain albums that I don't want to use in Picturen. This can come in handy if you have some pictures you don't want to share, or just images you want to remain private. The app also allows you to open your camera and take pictures directly.
I wasn't too happy that there wasn't any Tumblr or Google+ support. I'm not entirely sure if Google has released any API for 3rd party developers, but it would have been nice. I was a bit irritated that there's no Tumblr support. I managing a couple Tumblr blogs, so being able to easily share images to it would be a must. Since this app does not have Tumblr support, I can safely say that I probably wont be switching from Instagram any time soon.
I really like how this app works, but it's severely lacking in areas that would make it an excellent app all around. In a world where apps like Instagram exist, you're going to have a hard time getting people to care if they can't apply image filters. Everyone's a so called 'photographer', so if you can't apply cool and hipstery filters, you'll have a hard time getting people to care. Sure, you can take pictures, and you can even open the picture in the app and use their 'editing features', but it's just not the same to me. It needs a ton of work and Tumblr support before I ever would consider switching. It's a good app, just not good enough for me.
Conclusion and download link
If you're not really interested in stuff like Instagram, but you really want to share pictures to your Facebook, Twitter, Picasa or Flickr profile, Picturen Lite might just be the perfect app for you. It's not really as snazzy as some of the other photo management apps, but it does all the basics plus has this really nice batch share support. If you're in the market for a good photo sharing app that can also serve as an image/video gallery, this might just be your lucky day — check out Picturen Lite.
Price: Free
Version reviewed: 7.5000
Requires: 2.1 and up
Download size: 1.2 MB
Related Posts