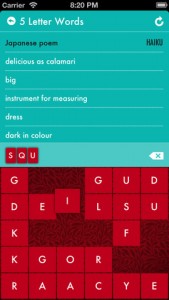 Countless studies have shown that people who keep their brains active have lower incidences of dementia and other age-related mental problems. Whether it's learning a second language, taking up sudoku, or doing a daily crossword puzzle, keeping your brain at work is the best way to make sure you continue to have a working brain. As a lover of words, crossword puzzles are my preferred way of keeping my mind sharp. I recently stumbled across a fun iOS game that will appeal to crossword fans. Clever Clues is kinda like crossword puzzles, but with a twist: there's no grid!
What is it and what does it do
Main Functionality
Clever Clues is a game for iOS devices. You are given clues, and must guess the word that is being hinted at.
Pros
Modern, attractive design
Simple but fun gameplay
Multiple levels of difficulty
Need a hint? Tap a clue to wiggle the first letter of the answer
Both US and UK English spellings are supported
Integrated voice over accessibility features
Cons
Difficulty is based solely on word length, not on how commonly used a word is
Some players might find the game more challenging if each round of play could be timed
Discussion
The controls in Clever Clues are nice and simple. Just pick your language preference and word-length, and you're good to go. You're presented with 5-6 clues, depending on your screen size. Every word will be placed on a grid below the clues. Spell the word that answers the clue, clear the screen, and you'll be rewarded with the next round of clues.
This game is really fun, a definite challenge, and quite addictive. The app itself is elegantly designed, which makes it all the more enjoyable to play. There's a definite tactile pleasure in completing each round of this word puzzle game.
One thing that would be nice is to include achievements to unlock, based on the time it takes to finish each round of play, or each entire category. I personally like a more laid back, relaxed word game experience. However, I know plenty of other people who would really enjoy the challenge of thinking under the pressure of a timed gameplay experience.
If you defeat the game, don't despair. Additional clue packs are available for Clever Clues via in-app purchase. Alternatively, you can reset the game and start over from the beginning. Additional packs of clues cost between 99 cents and $2.99, and include categories like kids clues, "Chronicled" clues, and cunning clues.
Conclusion and download link
The developers say that Clever Clues is "like the saucy love child of a crossword and a word search." I'm not sure if I'd call it "saucy," but it is definitely fun. If you like word searches, wordplay, crosswords, or mental agility exercises, this linguistic puzzle game should be right up your [five-letter word for "space between two buildings."]
Price: Free
Version reviewed: 1.1.2
Requires iPhone/iPad/iPod Touch, iOS version 5.0 or later
Download size: 3.3 MB
Clever Clues on Apple App Store
Related Posts