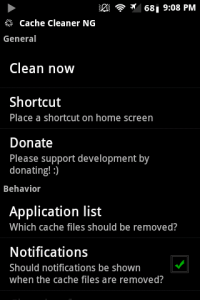 It is very easy to be trampled under the weight of app cache on Android. There certainly is not any sort of shortage for of that can clean system cache and SD cache files. However, it is very difficult to find an app that does this that is very straight forward. CacheCleaner NG is that kind of app.
What is it and what does it do
Main Functionality
Cache Cleaner NG is a cache cleaning app for Android.
Pros
Cleans app cache, including ones stored on SD card
Breathtakingly simplistic user interface
Can be started when device turns on, can also be automated
Supports search suggestions for apps
Cons
Requires root
Last updated March 19, 2012
Discussion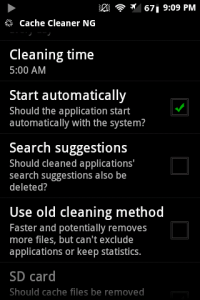 It's pretty hard to screw up an app that does one thing: an app that cleans your app cache. CacheCleaner NG is a great app.  It's a very simplistic app that lacks features, but its a great app. I suppose that when you're looking for an app to do a simple task, its really not too hard to find one that will fail you. I love everything about CacheCleaner NG — except for the fact that it needs root. That doesn't make sense to me.
I've used a few apps that clean simple application cache on Android, and I've never needed root access. Now, I'm sure that they is a reason for this. I'm mostly assuming that its clearing system app cache too, but this was never listed in the info section on the play store. CachCleaner NG is a pretty straightforward app. It has a brilliantly simplistic user interface. One that is minimalist, and does not have any unnecessary frills. I really respect that.
A bonus feature that comes along with CacheCleaner NG is the ability to clear cache from the SD card. Something that is welcome, coming from such a basic app. I really like this app for its minimalism. I'm a massive fan of minimalism in applications, because when you have a very simple app, with a very simple UI, but you make it incredibly useful, you'll get a lot more props coming from me than if you put up some bloated and fancy app that can do everything including make me dinner. Minimalism is an awesome part of this app — in fact, it's my favorite part.
Other than the fact that I don't really understand why it needs to have root access, I suppose the developer has reasons as to why. As simple and as great as this app is, I can't really see myself switching from SD Maid. I paid for a pro copy of SD Maid and there's just way too many features that I just can't live without. It has a ton of advanced functions that I use a lot, so I probably wont switch to CacheCleaner NG. That being said, it's a wonderful app, and one that I'll most certainly recommend to people who are looking for something simple.
Conclusion and download link
CacheCleaner NG is a good app in its own right; it's a wonderful, simplistic app, and one that does it's job very well. However, I see no reason why anyone would want to grab this when App Cache Cleaner and Clean Master both can clean app caches and don't require root. I highly recommend checking out App Cache Cleaner or Clean Master (Clean Master cleans more than just caches) if you need a cache cleaner.
Price: Free
Version reviewed: 2.16
Requires: 1.5 and up
Download size: 191 KB
Related Posts