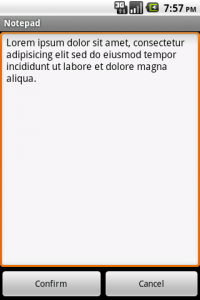 If you're looking for a simple notepad app for your Android device, you're in luck. Notepad is a very simple and straightforward note-taking app for Android. It allows you to edit and save text files. Perfect for jotting down notes on the go.
What is it and what does it do
Main Functionality
Notepad is a text editor for Android that can create, edit, and save TXT files.
Pros
Supports exporting and importing notes to/from SD card and internal storage
Very fast, lightweight, and low memory footprint
Very minimalistic
Cons
Virtually no customization options or advanced features
Last updated January 20, 2011

Note: Although the app hasn't been updated in two years, there really isn't anything that requires such a simple to be updated. It works just fine today.
Discussion
By having a smartphone, you're given a lot of perks. You get a computer in your pocket. You can do almost anything you'd do on your regular computer right there on your Android device. Looking at Android, it's a pretty robust operating system. Once rooted it can do things you could only dream of, but one thing that Google hasn't included after all these years is a basic text editor.
Notepad is not the first text editor for Android, and it most certainly isn't the last. Notepad is however, a very satisfactory app. It's very hard to mess up a text editor. This app is pretty lacking in features that I've come to expect in apps like Text Edit. Text Edit allows me to customize every aspect of my notepad, and does it very in a very simple way.
In a way, I can't be very critical on Notepad. Seeing as how this is just a simple app, there's really no reason for me to say its terrible. It's just lacking some basic features that I'd really like to have. That does not make it a terrible app. It does do what it was designed to do, which is to process text and save them as text files. It does that pretty well, but that's all it does.
I'm a big fan of customization, so it was a bit of a letdown that I was not allowed to change many things. I can't say that I'll be switching any time soon from my periodical use of Text Edit and Evernote. This is a good alternative to Text Edit, if you're not looking for frills, but, it is vastly inferior. Part of me even wonders why this app even exists. You'd think the developer would have seen the thousands of text editors in the play store and decided enough is enough.
Conclusion and download link
If you're not a fan of Text Edit, Notepad is a satisfactory replacement. Though it is lacking in advanced features, if you just need to take a note or two, and you don't really care about the features, you're probably gonna like this app. If, however, you are looking for something more full featured, please check out Text Edit.
Price: Free
Version reviewed: 1.06
Requires: 1.5 and up
Download size: 45 KB
Related Posts