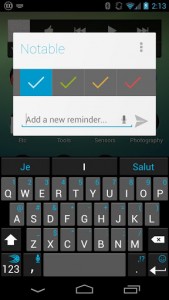 Android has a pretty nifty notifications tray that exists to alert you about all sorts of activities and events, but surprisingly there aren't many apps that allow you to create custom notifications. Notable: Quick Reminder allows you to create personal reminders that sit in the Android notifications tray. Better yet, all of this can be done via a unique overlay so that you never have to stop what you're doing while you type up a reminder.
What is it and what does it do
Main Functionality
Notable: Quick Reminder allows you to create entirely custom notifications that server as personal reminders. The application creates an icon that remains in the notifications tray, and instead of opening an app you can just tap the icon to create a new reminder. A temporary overlay appears on the screen, allowing you to type up the prompt quickly and then return to what you were doing beforehand. Wife called, and you don't want to forget to pick up a gallon of milk? No problem, you can whip up a custom reminder and leave it to sit in your notifications tray until you've completed your task.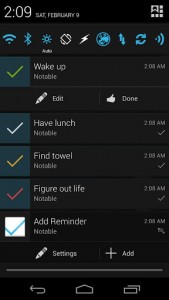 Pros
Push custom reminders to the Android notification tray quickly and easily
Pop-up overlay doesn't interrupt anything else you're doing
Uses Holo theme and Google Now Card hybrid design
Four different icon colors
Google voice dictation is implemented, if you need to stay hands-free
Several advanced settings to customize app functionality

Designate how the system handles a notification by default when you tap on it
Remove the Notable icon that always remains in the notifications tray
Allows swipe gestures

Several languages available
Works with the DeskClock Extension (another app entirely)
Uses 21MB of RAM while running and needs to be "always on", which is slightly high for most people's taste
A bigger icon selection would be gratifying; only a checkmark is available
The function to sync reminders with Google Tasks is not working currently (requires Google API)
Has annoying donate button and link to more apps in settings menu
Discussion
Surely during your time with your Android device you thought at least once that it would be agreeable to push custom reminders to the notification tray. With Notable, you can do precisely that. In fact, that's all Notable does, but that's not a terrible thing. These days a lot of apps out there try to squeeze in tons of added features in order to increase the usefulness of an app, when it just ends up resulting in excess bloat.
After installing Notable, a new icon will appear in your notification tray, labeled "Add a reminder." When you tap on this icon, a new window will appear, allowing you to set up a custom notification. There's not much to do from here. Next, you just type in the text for the notification and select an icon color. The icon for the notification is a single check mark, and there are four colors available: white, green, orange and red.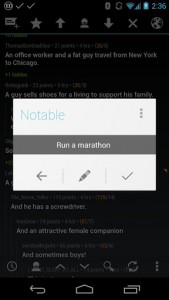 Once you've created a reminder it's immediately pushed to the Android notification tray. If you tap an existing reminder you can edit it, create a new reminder and dismiss it.
There are several options hidden away in the application settings that just further enhance functionality. You can explicitly choose what happens when you tap on a notification in the tray: there's an option to dismiss them, navigate to the detailed screen, or edit them. Keep in mind this option determines how the notification is handled by default.
You can also enable or disable the notification icon, display expandable buttons, and allow gestures. The gesture support allows you to swipe across the screen to mark a reminder as completed and dismiss it.
That's pretty much it for features, unless you count the voice dictation support. Yes, if you want to you can dictate the text for your notifications out loud.
For reference, Notable runs in the background, and it uses 21MB of RAM.
Conclusion and download link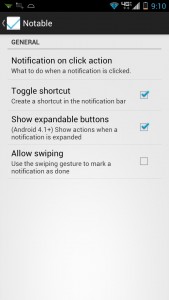 Quite simply, Notable is easy to use and outstanding. It's not often that you see an app developed just right, but Notable certainly has been. There are no pesky advertisements or locked down features, despite the fact that the app is totally free (although it does have a donate button and link to other developer's apps). Furthermore, the creation of personal reminders is quick, painless and doesn't affect anything else you're doing on your device.If you've ever wanted to display reminders to your Android notification tray, than Notable is the app for you.
Price: Free
Version reviewed: 0.9.3
Requires: 2.1 and up
Download size: 904KB
Notable: Quick Reminder on Play Store
Related Posts