For lack of a better phrase, bulk resizing images can be a real pain in the ass. It doesn't truly matter what photo editing software you use, they all pretty much require you to resize each image manually. If you only have ten or twenty images to work with, then it's not quite so bad. On the other hand, if you have a hundred photos or more to resize, it's going to take you a very long time. FreeSizer, as the name implies, is a totally free Windows program that can resize JPG images and photos in bulk.
What is it and what does it do
Main Functionality
FreeSizer will automatically resize JPG photos in bulk so that you may upload them to the web or send them via email. One of the biggest problems with taking high resolution photos is their massive size. Most websites, social networks and email providers require files to be under a certain size. FreeSizer is specifically designed to help you with those issues, by resizing images quickly and efficiently.
Take note FreeSizer only works with JPG images. The idea here is for you to use FreeSizer to resize photos you take with high resolution cameras, photos that are too large to simply share as-is.
Pros
Extremely easy to use and setup process is straightforward
Portable and light as a feather (uses 1MB of RAM)
Does not overwrite original images
You can assign a custom folder to save images to, or use the same as the original files
Pre-designated profiles speed up the selection process
Custom resolution options allow you to fine-tune based on personal taste
You can add a custom label to the filename of all resized images, this makes them easier to identify
Drag and drop files to the window to select them
Fun little statistics counter on the about page keeps track of how many images you've resized with the application and more
Doesn't noticeably degrade output quality
Cons
Can only resize JPG images
Difficult to determine how long the resizing process will take (depends on the original file resolution and quantity of images being edited)
Some of the profiles have strange resolutions, but they comply with the maximum file size requirements
Has a small ad for the developer's shareware program, RoboSizer
Pretty extensive support and resource database, except it's all online
Discussion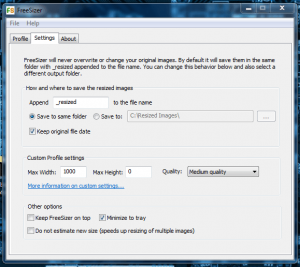 Resizing images can be an extremely tedious task especially when you have to edit a large number of files manually. With FreeSizer,  you configure the initial settings such as storage directory, and file naming conventions and then just let it do its job. When it's done, you have a fairly organized collection of resized images, along with the preserved original images. That's right, even though FreeSizer resizes images in bulk it does not overwrite original images, but instead saves the new ones as a copy. This is especially helpful if you want to save the higher resolution images, in addition to the resized ones.
There are several versions of FreeSizer available, one each for 32 bit and 64 bit operating systems, and there are even portable versions that operate as a standalone. Yes, you can certainly run the portable version of FreeSizer from a USB drive if you so desire.
The first thing you'll need to do after installing the program or starting it up is head straight into the application settings. There's actually not much that you have to configure, so don't worry about a lengthy setup process, but what is there is quite important.
You can append a specific label to filenames when resizing. This is particularly useful if you decide to save the resized images to the same folder as the originals. Speaking of folders, you can also choose what folder the resized images should be saved to- whether that be the same folder as the originals or a new one of your choosing.
You can also tell the program to keep the original creation date for the file, or reset the date as the current one.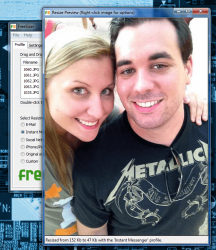 Last, but certainly not least, you can select the maximum size for the resized images along with the desired quality. Obviously I don't have to tell you that the higher the quality, the bigger the file will be both in size and resolution.
There are a couple of other options like the ability to keep the FreeSizer window on top of all others, and minimize the application to the system tray.
By default, FreeSizer attempts to estimate the size of files based on the initial profile you choose for the new images (we'll get to profiles in just a second). This can significantly slow down the resizing process, but luckily this function can be disabled in the settings.
When resizing images, all you have to do is choose a pre-defined profile like E-mail, Instant Messenger, Social Networks and more. Don't worry, there's an option to set a custom profile based on your own personal settings. To preview what your resized image is going to look like, all you have to do is choose a profile and then select the "Preview" button.
You can click and drag images from Windows Explorer to the FreeSizer window in order to select them. Once you're satisfied with all of your settings, just hit the resize button and off you go. The images come out perfect, unless of course,  you choose the wrong profile or submit a distorted custom size.
For reference, FreeSizer used about 1,380KB (1.3MB) of RAM while it was running on my machine. It's worth noting that I used the portable version for this review.
Conclusion and download link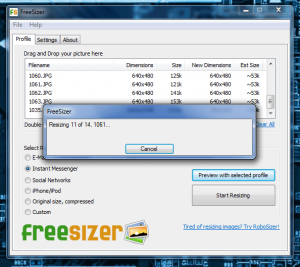 FreeSizer is incredibly useful, mainly because it saves so much time. Since time is one thing you can never get back, I believe it to be an invaluable commodity- even if you can't actually market it. All you have to do is select the initial settings, and then you can leave the program to resize your images. There are a few minor issues with it but FreeSizer does exactly what the developers advertise, and it does it so well. If you have a lot of JPG images or photos that you'd like to resize all at once, then FreeSizer is your answer.
Price: Free
Version reviewed: 1.0.0
Supported OS: Windows (XP, Vista, Seven)
Download size: 742KB (32-bit install), 770KB (64-bit install), 279KB (32-bit portable), 314KB (64-bit portable)
VirusTotal malware scan results: 0/46
Is it portable? Yes
Related Posts