We've become a nation of armchair travelers. Unless you're lucky enough to travel for work, you probably do most of your "traveling" via the Travel Channel, or by gazing at photos on some travel blog. It's rare to find a travel app that actually inspires you to get up and travel, but Jetsetter is one of those kinds of apps.
What is it and what does it do
Main Functionality
Jetsetter provides insider access to the world's greatest hotels, vacation homes and tour packages. The app features sales of up to 60% off on same-night stays, popular hotels, and weekend trips.
Pros
Huge array of locations and deals, from Kenyan safari trips to wine country weekends to ski and stay packages
Features 360-degree panoramic photos and first-hand reviews of hotels
Utterly gorgeous photography gives you a real sense of the hotel before you put your money down
Get custom directions in foreign languages when you travel
With auto-fill, you can book hotel rooms and vacation packages in under a minute
New in Version 2.3.1: You can apply promotional codes on the go, including a special introductory code for your first order on the iPhone
Cons
Detailed info in the "What To Know" section for each hotel lacks a time stamp: this makes some review information hard to process (more on this below)
So far, Jetsetter's guide to hotel rooms available "tonight" is pretty limited: New York, Miami, Boston, Chicago, Las Vegas, San Francisco, Los Angeles
Using this app to find a hotel in a smaller US city is nearly impossible
Discussion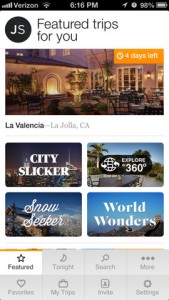 Detailed info in the "What To Know" section for each hotel lacks a time stamp: this makes some review information hard to process. When we read "hotel rooms are gradually being repainted" or "WiFi is available for $25," it's hard to know how accurate those prices are, or how long ago the "gradual repainting" process got started.
Timestamps for the reviews and information provided would be helpful: when you're talking about travel accommodations, it's never safe to assume that what you read online is the most current information.
That being said, this slick, polished app is a joy to use. I especially love the curated content: there are great resources for finding a hotel that's pet-friendly, a great family getaway, or a romantic weekend spot where you can hang up the "do not disturb" sign all weekend.
It's easy to see at a glance how many people have rated a hotel, and how many would return to visit that same hotel again in the future. In addition to the user reviews, each hotel has a dedicated review from a travel expert, along with lists of nearby attractions and directions to get there.
Conclusion and download link
If you love to travel but hate to over-pay, Jetsetter is a luxury app that can help you stretch your dollar further. But don't call it a budget app: Jetsetter feels like a premium luxury experience all the way. There isn't a more luxurious travel app out there. Most travel apps just get you excited about your destination by virtue of the low, low prices: this app gets you excited to travel because of the amazing photography and useful data.
Price: Free
Version reviewed: 2.3.1
Requires iPhone/iPod Touch/iPad, iOS version 4.3 0r later
Download size: 13.0 MB
Jetsetter on the Apple App Store
Related Posts