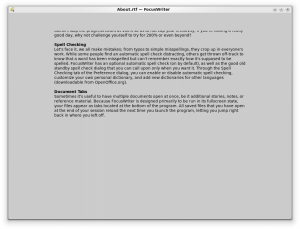 This time last week I was checking out Obtract, an app that helps you resist and eliminate distractions to your workflow. That got me thinking about other distraction-free apps, and I thought it was high time to try a few more distraction-free apps. Whether you're trying to focus on getting the first draft of your novel done, trying to finish a term paper before the deadline, or knuckling down and completing some reports for work, there are plenty of people who need a distraction-free writing app. One such app that is free to download is FocusWriter.
What is it and what does it do
Main Functionality
FocusWriter provides a "simple, distraction-free" writing environment for you to write, erm, without distractions. It has a no-frills, clean interface that hides itself until you move your mouse to the edge of your screen, allowing you to only use the program when you are ready to actually start writing.
FocusWriter is available for Windows, Mac OS X, and Linux. We specifically looked at the Mac OS X version for this review but the features for other versions are the same/similar.
Pros
Built-in timers and alarms to bring you back to reality if you get deeply immersed in your writing project and lose track of time
Translated into over 20 languages
Interesting extras include typewriter-style sound effects, Live statistics, and the ability set up both daily writing goals and customized themes
Multiple documents can be open at once, and all documents from your last session are automatically re-opened when you start your next session
You can set any image on your computer as your default background image from within the app (great for goal-oriented people who want a reminder about what or who they are writing for)
Cons
Only supports TXT, basic RTF, and basic ODT files, which may be a deal-breaker for some users
Discussion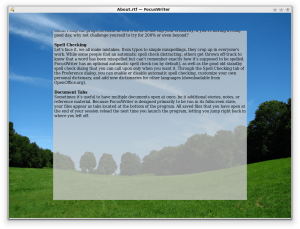 Why don't more word processors have built-in timers? It's a feature I don't recall seeing in other popular word processors, but it's a darn good one. Timers are great if you are trying to maximize your productivity. But the built-in timers that FocusWriter offers are just the icing on the cake.
FocusWriter is, without question, the most customizable word processor I've ever used. Everything from the background to the layout to the size of the interface can be adjusted until it's just right. If you're persnickety when it comes to software, this may be the perfect app for you.
To be fair, it is a bit annoying that you can only save documents as .txt, .odt, or .rtf. However, it is easy enough to convert these in another program if you really need to for whatever reason. I love .rtf files personally, so this isn't an issue for me.
But that doesn't matter in the face of such a thoughtful, seamless tool for writing. If you are constantly getting distracted at work, this is the best distraction-free app I've found.
Conclusion and download link
After my beloved Bean went haywire on me last week and corrupted an important file, I'm so glad to have found a free word processor to replace it. FocusWriter is lean, utterly distraction-free, and comes with a ton of smart features that make it the perfect tool for writers. Whether you're composing a short story, powering through a major report for your boss, or just trying desperately to fight the urge to procrastinate while working on an important term paper, FocusWriter is an awesome tool. There are a few limitations, but they are well worth dealing with. And because you can so easily turn off the spellcheck, this would also be a great app for coding in.
Price: Free (but donations are accepted!)
Version reviewed: 1.4.3
Supported OS: Windows XP/Vista/Win7, Mac OS X 1o.5/10.6/10.7, Linux
Download size: 8.3 MB
Related Posts