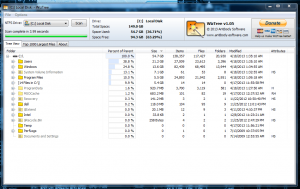 Hard drives just have a way of filling up with junk. If you're a gamer like me, then you especially know what I'm talking about. If you download a lot of content, then you probably have a good idea of the dilemma too. WizTree will analyze your hard drive and determine which files are taking up the most space. Where WizTree differs from other programs like it, however is its processing speed which is quite remarkable.
What is it and what does it do
Main Functionality
WizTree quickly and efficiently scans your hard drive files that are using the most storage space. You can use this information and act accordingly by cleaning up unwanted files and more. WizTree doesn't actually search the contents on the hard drive but instead uses the Master File Table (MFT). This means it will not work with FAT based drives, and will only work with those formatted using the NTFS standard. [Note: Most people on Windows are on NTFS, so not supporting FAT is not a big issue.]
Pros
Remarkably fast, only takes seconds to complete a scan
Tree view tab and Top 1000 largest files get you instant access to the biggest files on your storage drives
Very easy to use, and user interface is certainly helpful
You can filter information by size values (Byte, KB, MB, GB)
Additional options are convenient
Cons
Only works with NTFS formatted drives (FAT unsupported)
Not much documentation, but there is some
Large donate button in the top right corner of the application
Not the most beautiful UI ever, but not terrible either
There are some software ads on the about page
Discussion
This type of program is actually quite common. I'm willing to bet we've covered a few Windows programs just like it in the past. Where WizTree differs from other storage analyzing apps is the rate at which it performs an action. It's remarkably fast even when scanning exceptionally large hard drives. Because speed is always a plus, that's why I'm covering the software today.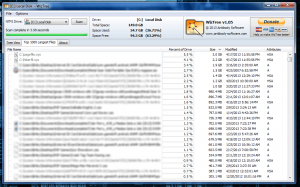 The first thing to mention is that WizTree makes use of a distinctive feature that makes it incompatible with drives formatted in the FAT standard. Instead of scanning every file stored on the hard drive, WizTree scans the Master File Table or MFT. The MFT essentially logs any and all changes made on an NTFS formatted drive. Since this feature is unique to NTFS, that's why WizTree will not work with FAT based drives.
It's available in a standalone version if you do not want to install the software traditionally. Furthermore, it's incredibly small in size, weighing in at 1,681KB for the portable version. Also, it uses 3,352KB (3.3MB) of RAM while running in the background which is not very much.
The program itself is straightforward and supremely easy to use. The interface isn't all that attractive, but that's okay the emphasis here is on functionality.
There are three main tabs, one reserved for tree view, another for the top 1000 largest files and of course an about tab that provides you with a bunch of information about the application.
There's a dropdown menu at the top that allows you to choose what hard drive you would like to analyze, and nothing actually happens until you press scan, obviously. After scanning the drive, the different tabs are populated with the appropriate information. The scan is genuinely completed in a few seconds, maybe a little longer on larger hard drives. My 149GB laptop completed in 3.01 seconds while my 1TB desktop completed in a little over 6 seconds.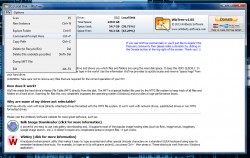 The tree view is essentially the standard file view for Windows. You can explore directories by expanding various trees and analyze how much space they take up. This tab is handy for figuring out what folders are taking up the most storage space.
The top 1000 largest files tab is pretty unambiguous. It's a compiled list of all the files on your computer taking up the most storage space.
There are some other options that you can access by entering the dropdown menu just below the taskbar. Under the file menu, you can scan a drive, open a new WizTree instance, explore a folder, open a command prompt, copy a path, delete a file to the recycle bin or permanently, and dump the MFT file.
Conclusion and download link
WizTree is yet another utility that accurately analyzes storage. It's both lightweight and portable, and it's incredible easy to use. While it's not adorned with the most attractive user interface ever, it was certainly not built for style alone. WizTree stands out most for its remarkable effectiveness and processing speed. A hard drive scan actually takes only seconds to complete, and there are no unnecessary waiting periods. Unfortunately, it only works with NTFS formatted drives because of how it analyzes content, but that too is okay. Without the NTFS requirement, WizTree could never be so fast. Plus most Windows computers use NTFS, so… yeah — only supporting NTFS is a non-issue.
Price: Free
Version reviewed: 1.05
Supported OS: Windows (XP, Vista, Seven), 32 and 64 bit
Download size: 894KB
VirusTotal malware scan results: 0/46
Is it portable? Yes
Related Posts