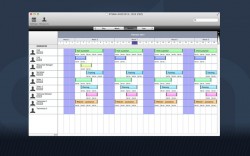 When you're working as part of a collaborative team, one of the hardest things to accomplish is finding blocks of time where everyone can get together and meet. One great tool for building your schedule (or reviewing the schedules of other team members) is xTeamView, an app that is part of the xTeam family.
What is it and what does it do
Main Functionality
xTeamView is Mac app (with corresponding iPhone and iPad apps.) xTeamView is used to view schedules created with the xTeam app for Mac. Use it to share information and schedules, and coordinate work on shared projects.
Pros
One-click sharing of your schedules
View the schedules of one team member, or the schedules of the entire team
Simple to find the schedules you need: just enter the relevant schedule, user, and password info
Connect from any remote location
Add assignments to the schedules to coordinate schedules
Helpful "demo account" mode helps you to get your bearings within the app
Cons
Month and Year views are somewhat cramped
Lacks customization options
Would be nice to have more flexibility in how the various team member schedules are displayed for ease of comparison at a glance
Discussion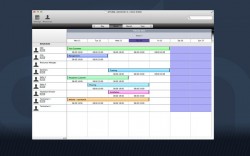 If you're not totally familiar with xTeam, here's a quick primer. xTeam (currently on its third iteration) is a Mac tool used for assigning workers to certain time periods of work on given projects.
It is also used to sync team member schedules, generate reports on how time is spent, and keep all location tasks in a single area. xTeam also tracks worker absences and days off.
xTeamView, made by the same team that brought you xTeam, is the Mac App and iOS app that allows you to access these schedules remotely. Provide the relevant schedule, user, and password info, and you're good to go.
There's no in-app tutorial, which is kind of a downside for people who tend to be visual learners. However, there is a "demo account" mode that can help users get oriented with a hands-on approach.
I do really wish that there was more in terms of customization options, the better to compare schedules and make the app feel unique to each user. In particular, I felt that the "year" and "month" views were so cramped that they became slightly unhelpful. That being said, xTeamView is a solid app and a good way to access your xTeam schedules remotely.
Conclusion and download link
If you're stymied for ways to better sync your schedules with your colleagues, xTeamView and xTeam can be used in combination to great effect. This suite of apps for both Mac and iOS devices can help to eliminate scheduling snafus, boost productivity, and ensure that everyone always has remote access to important scheduling information. Your schedule is your map for your working life: get it organized and synced with these helpful apps.
Price: Free
Version reviewed: 3.5
Requires OS X 10.6 or later, 64-bit processor, xTeam 3
Download size: 2.6 MB
xTeamView on Apple App Store (Download xTeam version 3.0 for Mac here)
Related Posts