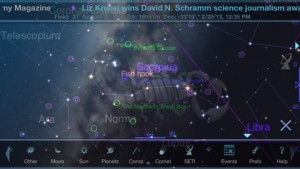 Unless you live in a big city, you can probably look up in wonder at the night sky. There are few natural wonders as majestic, or as beautiful. But if you're like me, you wish you knew more about what you were looking at. Whether you're interested in the constellations because of their mythology, or because of your interest in the sciences, you will be intrigued by the star charts in Distant Suns Lite.
What is it and what does it do
Main Functionality
Distant Suns Lite is an iPhone app targeted at both casual fans of astronomy, as well as more seasoned observers of the night sky. Based on your GPS location, you will get tons of educational and entertaining info about the galaxy we live in.
Pros
Current, accurate data on 88 constellations and the planets
Helpful, comprehensive tutorial to get you oriented within the app
Great blend of simple navigation controls and precise Azimuth/Field of vision measurements make this app simple for novices yet precise enough for more advanced students of astronomy
Just tap on a select constellation's name to see an artistic overlay of that constellation's mythological representation
Find the moon, sun, and planets with a simple tap!
Now fully compatible with the iPhone 5
Pluto fans, rejoice! Distant Suns restores the beloved ninth planet to full planet status in this app! (In your face, Neil DeGrasse Tyson!)
Cons
Lite version lacks Paid app perks likes universality, additional stars, the ability to speed up time, compass support, and night vision mode
Tapping on an interesting item in the newsfeed headlines doesn't take you directly to the relevant article, which is annoying
App can sometimes freeze up, particularly under the "events" submenu
Discussion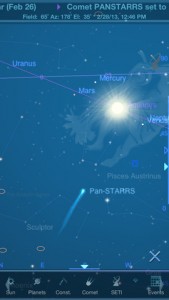 Distant Suns Lite describes itself as "one of the easiest to use astronomy programs available." Does it live up to the hype? Surprisingly, yes! While their could be clearer navigation buttons, this app is surprisingly intuitive, and getting lost is virtually impossible.
At startup, Distant Suns showcases the current night sky based on your geographic location. Along the bottom of the screen, there are icons that will quickly highlight and locate objects like the sun, the moon, the planets, and passing comets. Finding what you want is very simple!
There is a somewhat helpful "events" tab that will keep you abreast of interesting astronomy and observational events at planetariums and similar locations that are close to your current location. However, this screen does have a tendency to freeze up, and it also provides events that are sometimes VERY far away from your current location.
The latest version of the app (1.6.1) included a ton of updates. Some of the most primo updates include fully iPhone 5 compatibility, UI improvements, restoration of meta-data from SETI that had gone missing in past versions, and alignment improvements to the Milky Way Galaxy.
Conclusion and download link
If you're looking for a good introduction to astronomy for yourself or a younger user, Distant Suns Lite is a good place to start. Distant Suns also has a couple of sister apps that offer more premium content and features. If you like this app, but crave more access and information about our galaxy, try one of the Distant Suns premium apps instead.
Price: Free
Version reviewed: 1.6.1
Requires iPhone/iPad/iPod Touch, iOS version 5.0 or later
Download size: 41.4 MB
Distant Suns Lite on Apple App Store
Related Posts