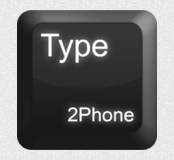 While there are some people out there who are masters of the virtual smartphone keyboard, most of us type at our fastest when we're plopped down in front of a Qwerty keyboard. However, not all of our iOS and Apple devices play nice with the keyboards on our Mac desktops and laptops. Now, there is a helpful workaround in the form of Type2Phone, developed by Houdah Software.
What is it and what does it do
Main Functionality
Type2Phone is a Mac App that allows you to use your MacBook or other Mac computer as a Bluetooth keyboard interface for your iOS devices and/or Apple TV. Simply prepare text on your Mac and share it to the device of your choice. This app is FREE til Sunday as part of April Awesomeness by AppyFridays.
Pros
Supports of 25 different global keyboard layouts
Sleek, minimal, and attractive interface that is so easy to navigate
Easy to get customer support: the developers usually reply to forum posts and emails the same day
Great for faster completion of forms, status updates, or title searches on your Apple TV (no need to use the slow-as-molasses remote to painstakingly select each letter one at a time!)
Type SMS text messages on your keyboard, instead of on the iPhone's admittedly annoying virtual keyboard
Easy to paste messages, passwords, addresses, etc. from your Mac to your iPhone
Cons
The app can sometimes have trouble locating or pairing with iOS devices (thankfully, there is a detailed explanation of how to work around this issue on the Type2Phone App Store page, and you should only need to complete this workaround one time)
Discussion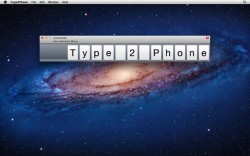 I love how minimal and streamlined the Type2Phone interface is. A tiny icon in the upper right corner of the app lets you change the keyboard layout to one of 25+ international keyboard layouts. In the upper left, there's a one-tap area to start the connection process.
Admittedly, the connection process can be a little lengthy. However, the developers have provided extensive, detailed, and very simple-to-understand directions about how to pair your Mac with these other devices.
The latest version of the app (Version 2.0.3) includes a ton of bug fixes, resulting in a much smoother and more satisfying app experience. Bugs in previous versions that were causing connectivity issues have been addressed, which is a great reason to revisit the app if you tried it and didn't like it in the past. This app may be very simple, but it really does make your whole life more simple.
Conclusion and download link
If this app sounds intriguing to you, act fast: Type2Phone is currently free, but only for a limited time. It looks like the price will change on Sunday, so grab it while it's free! Type2Phone is easy to use (after you get things set up), and the app itself is smartly designed.
Price: $4.99
At the time of this writing, Type2Phone is available for free for a limited time
Version reviewed: 2.0.3
Requires OS X 10.6.6 or later, a Mac with Bluetooth enabled, and one of the following: iPhone (3GS or later), iPad (all models), iPod touch (3rd generation or later) running iOS 3.2 or later, or Apple TV with software version 5.2 [January 2013] or later)
Download size: 0.7 MB
Related Posts