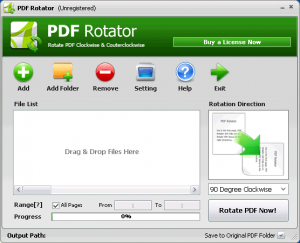 Do you have a bunch of PDFs with pages in the wrong orientation and you would like to permanently rotate them? PDF Rotator claims to be able to allow you to rotate PDF pages. Let's see if it is worth your time.
What is it and what does it do
Main Functionality
PDF Rotator allows users to rotate PDF pages. PDF Rotator permanently rotates pages, not temporarily; this means the pages of output PDFs appear rotated in whatever PDF reader they are opened in.
Pros
Allows users to rotate PDF pages 90 degrees clockwise, 90 degrees counterclockwise, or 180 degrees clockwise (which is the same thing as 180 degrees counterclockwise)
Supports batch processing
Can rotate normal and owner-password encrypted PDFs
Allows users to pick if they want to rotate all pages in input PDFs or only a select range
Is easy to use and fairly fast
Has a portable version
Cons
Doesn't support user-password encrypted PDFs (won't let you enter user password and it is impossible to rotate user-password protected PDFs without password)
Doesn't allow users to pick how to name output PDFs. Each output PDF retains the original PDF name with a "_Rotated" appended to the end. Users who don't want that "_Rotated" need to manually rename all output PDFs.
When batch processing, you cannot rotate each input PDF differently — they all must be rotated in the same way and the same pages
Cannot preview input PDFs from within the program, meaning you have to open up input PDFs in a PDF viewer to see how you want to rotate them and then select that rotation in PDF Rotator
$29.95 for rotating PDF pages…?
Discussion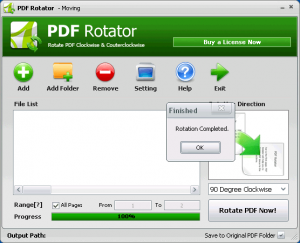 There is not much to say about PDF Rotator. It is an easy-to-use and straightforward program that does one thing and one thing only, rotate PDF pages, and it works as claimed. The only problem? Why the hell would anyone want to pay $29.95 for a program that just rotates PDF pages.
Maybe I'm not understanding the importance of rotating PDF pages but I see very little reason to pay $29.95 for this program. The only possible justification for this program is someone who has many PDFs that have wrongly orientated pages and can make use of the batch processing of PDF Rotator. However, the fact that PDF Rotator does not allow users to select how output PDFs are named, can't rotate user-password protected PDFs, and forces users to rotate all input PDFs in the same manner really diminishes the batch rotating value of this program… which wasn't very high to begin with. Someone want to help me here in explaining why someone would want PDF Rotator?
Conclusion and download link
If you like throwing away your hard earned money, get PDF Rotator. If you would prefer not to throw cash at a developer who has created a subpar program, save your money and skip PDF Rotator because PDFill PDF Tools allow you to rotate PDF pages for free and I'm sure there are many similar free programs that can rotate PDF pages.
Price: $29.95

Version reviewed: 1.0.2

Supported OS: Windows 2000/XP/2003/Vista/Win7/Win8

Download size: 3.87 MB (installer), 4.13 MB (portable)

VirusTotal malware scan results: 0/46 (installer), 0/46 (portable)
Is it portable? Yes
Related Posts