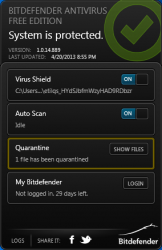 A few years back the only viable free anti-virus programs were Avira, Avast, and AVG. However, thanks to the pioneering efforts of those three, other anti-virus companies have felt the pressure to release free anti-viruses and many have done so. Bitdefender Antivirus Free Edition is a relatively new free anti-virus. Let's see if it is worth your time.
What is it and what does it do
Main Functionality
Bitdefender Antivirus Free Edition is a free anti-virus/anti-malware program that protects users against all types of malware: viruses, trojans, spyware, adware, rootkits, etc.
Pros
Provides real-time protection and on-demand scanning against all types of malware, including viruses, trojans, and rootkits
Combines traditional signature-based with non-signature based protection to help detect known and not-yet-known threats

Active Virus Control – Looks to detect not-yet-known threats (i.e. threats that don't have signatures for them)
Intrusion Detection System – Stop processes that access the Internet or network that are deemed to participate in questionable behavior too many times
B-HAVE – Analyzes the behavior of programs in a "safe environment" to ensure no illicit code is executed

Has a web scanner that pro-actively blocks websites (HTTP connections) known to be malicious

Note: Web scanner is unable to protect you when you visit websites over HTTPS. This isn't a problem unique to Bitdefender Antivirus Free Edition — the point of HTTPS is so other programs cannot analyze the traffic, and no program can protect against threats over HTTPS. However, I felt this point should be clarified.

Note: Even if you download a malicious website over an HTTPS connection, Bitdefender Free Antivirus Edition will still protect you by blocking that file once it is downloaded onto your computer. So don't worry.

Performs "early boot scanning" to try and detect malware while Windows is booting (notably rootkits)
Will not (should not) bog down your computer; is relatively lightweight
Protects itself from being forced closed

Note: You, or malware, cannot force close Bitdefender but you can exit the system tray icon interface by right-clicking it. However, closing the system tray icon does not close Bitdefender — it is still running in the background regardless of if the interface is running or not — and you are still protected.

Uses the same database of signatures and engines as the paid version of Bitdefender, so provides similar excellent protection (Bitdefender is one of the most highly rated anti-viruses)
Is extremely quick to install (and to uninstall, if it comes to that)
Is very easy to setup and use — no real configuration needed
Is free to home/non-commercial and business/commercial use

Note: Bitdefender does not explicitly state on their website if Antivirus Free Edition is free for everyone or just non-commercial use only. I talked to Bitdefender support who gave me the runaround but more or less told me Bitdefender Antivirus Free Edition is "intended" for home users but can be used for home and business use.
Cons
On-demand scanning is not very user-friendly; no easy way to initiate on-demand scan of whole computer
Is very arrogant; won't let users pick what they want to do when a malicious file or website is detected
You must register an account with Bitdefender (registration is free and easy)
Occasionally displays ads
Is known to sometimes have issues updating
Discussion

Bitdefender Antivirus Free Edition is the free version of Bitdefender's paid solutions. Whereas Bitdefender's paid solutions offer more robust protection, Bitdefender Antivirus Free Edition focuses on providing users with the basic necessary protection every Windows user should have: real-time and on-demand protection against known and unknown malware threats of all kinds. Plus it throws in a web scanner as a cherry on top.
Generally speaking, Bitdefender Antivirus Free Edition works very well. Not only does it utilize the same database and engines as Bitdefender's paid products, which have excellent detection rates as confirmed by many independent anti-virus tests, but it is also fairly lightweight and won't bog down your computer. For example, during my time testing Bitdefender Antivirus Free Edition CPU usage was nearly negligible while idle and RAM usage hovered around 15 MB. (It should be noted that RAM usage was not always around 15 MB. It peaked at roughly 120 MB before cleaning itself up and jumping down to roughly 15 MB; RAM usage then slowly crept up to 50 MB multiple times after which Bitdefender again cleaned itself up and jumped down to roughly 15 MB. Eventually, RAM usage settled at around 15 MB with the occasional spike to 50 MB. This is relatively low RAM usage for a full-featured anti-virus.)
So, good protection, good features, and light on your computer. A winner, right? Not so fast.

There is one major problem I have with Bitdefender Antivirus Free Edition: arrogance. When Bitdefender Antivirus Free Edition detects what it feels is a malicious website or malicious file, it automatically blocks the file/website — you are given no ability to override the block. I can understand why Bitdefender behaves like this; they don't want users to be infected because they wrongly overrode Bitdefender and allowed a malicious file to be executed or a malicious website to be loaded. So is a good thing for the average Joe who has no idea what button to press when prompted with a scary "malware has been detected message". However, all anti-virus programs, including Bitdefender, are prone to have some false positives. Not giving users the ability to override Bitdefender actions or not giving users the ability to select what they want to do with a suspected malicious file means you simply have to live with any false positives Bitdefender detects, which is very poor form on the part of Bitdefender.
By behaving like this, basically Bitdefender is saying: We are always right and you are too stupid to make your own decisions. So bend over and take it. I don't know about you but I ain't bending over, and it has nothing to do with my wife getting jealous. A much better way for Bitdefender to behave would be to have a default "normal" mode that doesn't allow user overrides and an "advanced" mode advanced users can manually enable to perform overrides.
Another issue I have is with on-demand scanning. You can perform on-demand scanning of individual files/folders via the right-click context menu but there is no ability to initiate an on-demand scan of your whole computer from Bitdefender Antivirus Free Edition, like anti-virus programs traditionally have. Does Bitdefender really think no one will want to occasionally perform an on-demand scan for their whole computer?
Essentially, in their crusade to make Bitdefender Antivirus Free Edition lightweight and easy-to-use for the average Joe, Bitdefender has swung the pendulum too far in the opposite direction; so much so that Bitdefender's "user-friendliness" is making it un-user-friendly for certain users.
Conclusion and download link
Bitdefender Antivirus Free Edition provides excellent protection, will not slow down your computer, and is free for non-commercial and commercial use. Overall, I have to say it is an excellent program. However, Bitdefender Antivirus Free Edition is not for everyone.
Because of the way it does not let users pick what to do when a malicious file or website is detected, this program is not of the tech-savvy. Rather, it is for the average Joe who has little to no knowledge about computers; the type of person who would rather let Bitdefender make decisions about what is malicious and what isn't rather than try to figure it out for themselves. Personally speaking, I am not that type of person so I won't be getting Bitdefender Antivirus Free Edition. If you are in the same boat as me, I recommend you try other free anti-viruses like Avira, Avast, or AVG.
On the other hand, I recommend Bitdefender Antivirus Free Edition for less tech-savvy people who will benefit from Bitdefender's no-user-choice attitude; people who don't know what to do when an anti-virus alerts them of a potentially malicious file. For example, I plan on installing Bitdefender Antivirus Free Edition for my dad, who will be better off if the decisions about what is malicious and what isn't malicious is left to Bitdefender rather than himself. No, my dad isn't a moron. He is actually very smart. He just doesn't understand technology. If you don't understand technology, or know someone who doesn't understand technology for whom you can install this for, then Bitdefender Antivirus Free Edition is for you.
Price: Free
Version reviewed: 1.0.14.889
Supported OS: Windows XP/Vista/Win7/Win8 (32-bit and 64-bit)

Download size: 9 MB not including database download
VirusTotal malware scan results: 0/46
Is it portable? No
Bitdefender Antivirus Free Edition homepage
Related Posts