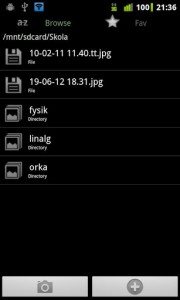 Fed up with photo/camera managing software that is just too complicated? Camera Folders is an extremely easy way to manage which folders that pictures are stored in after taking them. It's not as advanced as some of the more full-featured picture sorting/management apps, but it does the job.
What is it and what does it do
Main Functionality
Camera Folders is an app that can manage where pictures are stored after being taken. Basically what happens with Camera Folders is you browse to the location where you want to store a photo then press the camera button and snap your photo; that photo is then stored in the folder you were in instead of the default DCIM folder where photos typically go.
Pros
Simple user interface
Very fast
Straightforward and easy to understand
Very low memory footprint
Cons
Does not support videos — photos only
Discussion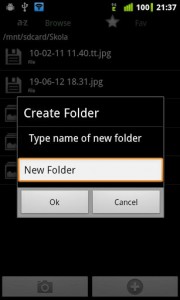 All too often I seek out image managing apps or image sorting apps on the Play Store and they're way too complicated. All I'm looking to do is sort the pictures I take, and they're asking me if I want to connect my Facebook, Twitter, Picasa, Flickr or Tumblr accounts. All of them are so needlessly complicated and all I'm looking for is something that is extremely simple. Camera Folders solves this problem brilliantly well.
The best thing about Camera Folders is the user interface. I'm really impressed with the fact that this app is so brilliantly easy to use. More often than not I come into contact with apps that are just so convoluted and slow. I'm also very happy with how fast the app is. It's incredibly responsive. Simply pick the folder that you want a picture to be saved to, and bam, done. It's that simple and I absolutely love it.
The only major problem I have with this app is the fact that it does not do this with video. It's kind of a bummer. It would be really great if I could do the same thing that I can do with pictures with videos. It's not really that big of a deal, but I was kind of let down. If this app handled videos, it would be pretty much perfect. Of course, no app is perfect. Hopefully the developer will include video support in the near future.
All in all, I really like Camera Folders. It's a very simple app, one that I can really get behind. I love the simplicity and the low memory usage. I love that it does exactly what it say's it's gonna do. I'm a little bummed that this app does not support video, but I'm eagerly awaiting an update from the developer that will allow me to do exactly that. It's an app that I can recommend to almost anyone that just wants to be able to sort pictures into folders before they take them. Brilliant, simple concept.
Conclusion and download link
If you're looking for a way to easily sort photos into specific folders, Camera Folders is perfect for you. It's brilliantly simple, extremely easy to set up., and the user interface is very intuitive and fluid. Grab this app if you need or want the functionality.
Price: Free
Version reviewed: 1.3
Requires: 2.1 and up
Download size: 40 KB
Related Posts