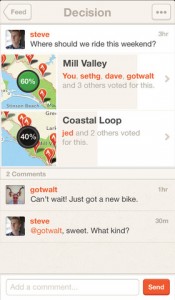 There's nothing worse than indecision. But sometimes, it is simply impossible to pick between two or more options. If you ever need a second opinion, you can ask a friend for advice. Or, with Seesaw, you can ask all your friends for advice at once, and clearly see which option gets more votes.
What is it and what does it do
Main Functionality
Seesaw is an iPhone app that lets you crowdsource the decision-making process. Upload your quandary, and let your friends vote on which choice you should make in any given situation.
Pros
You can browse Seesaws and even vote without logging in: a great way to test out the app before going through all that registration/sign-in rigamarole
Sign in with your Facebook, Twitter or Instagram account…or opt for creating an account based on your mobile number, and register via text!
As of Version 1.3, voters can go back and change their vote if they have reconsidered their position on a given query
Photos associated with your choices can be made public or private
Ask questions of your close friends, or open up the query to the whole Seesaw community
Community q's run the gamut from fashion to current events to food, and pretty much everything in between
Cons
Offering more than two options in a public question seems to lead to draws between the various choices– it would be nice if people had the option to clarify their reasons for voting in a cleaner system than the comments, something linked to the actual vote
App only works in portrait orientation, even when you've clicked on an image to see in more detail
The "Explore" feature is great, but I wish that there were far more trending hashtags featured
Discussion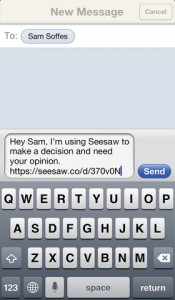 Seesaw's community questions are really easy to browse, thanks to a hashtag system. Tons of people seem to be using this app as a metric for whether a gift they've selected is good enough for a loved one– I saw a lot of people asking questions about the gifts they had picked out for Mother's Day. I think that's a really good use for this app.
As someone who's constantly harping on apps that don't give you multiple ways to sign in/register (or apps that force you register an account before you've had a chance to play around in the app and decide if it is right for you), I was pleasantly surprised to see that Seesaw gives you 4 options for logging in: phone, Twitter, Facebook, or Instagram. You can also browse the app before logging in, which is really nice.
Inviting people to vote is a pretty simple process, though it could be streamlined with the auto-import of your contact information right into the Seesaw app, particularly for Facebook logins. I'd much prefer being able to have a pull down list with checkboxes to send my question invite to a bunch of people at once.
Overall, this app has a friendly, modern design. The UI is great, and the app didn't have any noticeable bugs or weirdness during testing. This app is great for both people who need help making decisions, as well as those people who just love to vote and pass judgement on the actions of other people.
Conclusion and download link
Whether you need help picking out a vacation destination, a good place to eat in a given neighborhood, or just need help picking out the perfect outfit to wear to a party, Seesaw makes it easy to ask your friends for their recommendation.
Price: Free
Version reviewed: 1.3
Requires iPhone/iPad/iPod Touch, iOS version 5.0 or later
Download size: 5.1 MB
Related Posts