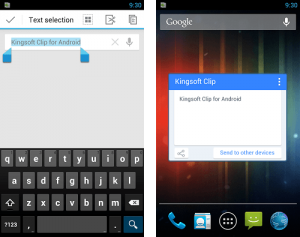 The ability to copy and paste text based content is a key feature on desktop computers. One benefit that desktops have over mobile devices is that users can manage content copied to the virtual clipboard. Kingsoft Clip (Office Tool) is a handy little application that allows you to manage your clipboard on an Android device, and transfer content to a PC.
What is it and what does it do
Main Functionality
Kingsoft Clip is a free application that allows you to have nine clipboard on your Android device, and share clipboard content with a PC or other Android devices. Aside from sharing clipboard content, you can also transfer files from Android to PC.
In order to transfer files/clipbard between an Android device and a PC you have to install the Kingsoft client on both the mobile device and the computer.
Pros
Can locally store up to nine total clippings at a time which you can paste at any time (after the limit is reached the oldest clipping gets deleted when a new one is stored)
Allows you to share your clipboard or any file with your Windows PC
Supports floating windows, which display clipboard history and various shortcuts

Floating window stays on top of all others

Simple and easy to use
Sharing clipboard/files with a PC is done via the cloud, so you need not be on the same local network — you just need an internet connection on both
Cons
To sync text content with a PC you need to install both the Android client and desktop client on Windows

In order to transfer files to a PC you need to install the client on both the mobile device and the related computer. For the purpose of this review I tested the desktop software briefly to make sure it worked as advertised. That's as far as my experience goes with the desktop application. I did not encounter any bloatware when installing the PC client, but there's no guarantee it won't change in the future.

Only 20 clips or files shares are allowed between an Android device and a PC per month, and this limitation is account based
Some people may not be comfortable sharing via the cloud
Uses about 45MB of RAM while running in the background
Clipboard only works with text. The developers advertise that you can also copy/clip images and videos but I was not able to do so.
Discussion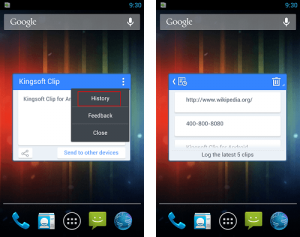 Kingsoft Clip (Office Tool) is a pretty straightforward app, meaning there's not a whole lot to it. The actual application houses a quick user guide and tutorial of sorts on using the app, and access to the settings menu. There are only two options available in the settings menu, so I'll describe them now.
The first option is a toggle for the clipboard monitor feature. Essentially, this feature displays an icon in the Android notification tray which logs and displays the nine latest clips- the term used for copy and pastes. When you tap on the icon, it will open a floating window, we'll get to what that's for in a bit. The settings toggle for the clipboard monitor will either enable or disable this feature.
The second option in the settings menu is a feedback link. Tapping on this option will open the default email application of choice with a direct link to the developers feedback address. You can use this to flame the developer, or give praise depending on how you feel about the app.
Back on the subject of that floating window, this is where you'll be interacting with clips the most. When you copy or "clip" something it will show up in the floating window, and also in the Android notifications tray. The Kingsoft clipboard can store up to nine clips total. When you exceed that number, the oldest clip will be overwritten. To translate, if you already have nine clippings and you copy more text to the clipboard than the oldest clipping will be replaced by the new one.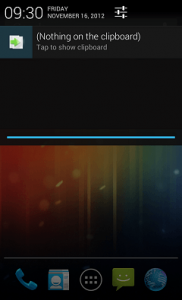 Every time you copy content, a notification will pop up indicating your success and it will also offer direct access to that particular clip. Tapping on the notification will bring you to that specific clip. You can always navigate to the full list of available clippings by tapping the back arrow in the top left corner of the floating window.
Even though the Kingsoft clipboard stores nine different clippings you can only have one of them stored in the system clipboard at any given time. Tapping on an existing clip in the list will copy it to the system clipboard. I hope I'm not confusing you with all this talk about clips and clipboards.
Any clip can be stored in the cloud, which ultimately allows it to be accessed from anywhere including a PC or alternate Android device. All devices must have the Kingsoft client installed, however in order to access the copied content. You can only transfer a maximum of twenty clippings to the cloud per month, this is a limitation of the free version. Unfortunately, the transfer limit is account based and I did not encounter any way to setup a new account.
You can also share clips and delete them from memory.
For reference, Kingsoft Clip uses approximately 45MB of RAM while running in the background. That's quite a bit for a mobile app.
Conclusion and download link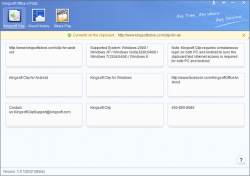 If you're looking for a more advanced clipboard experience on an Android device, then Kingsoft Clip is definitely suitable. More specifically, it will allow you to store up to nine different content clippings at a time, and you can also transfer the clips to cloud storage or wirelessly to a PC or alternate Android device. Unfortunately, you can only store and transfer up to 20 clips in the cloud per month. Once your limit is reached, you can still copy content to the clipboard, you just cannot transfer it your computer or another device until a month passes. This is an unfortunate limitation, but you can earn more clip transfers by following this guide from the developers (it involves posting to Facebook and advertising the developer's software). The application is not plagued by pesky advertisements, but it does use a considerable amount of RAM (45MB). Still, it's hard to deny how useful an app like this could be to some dotTechies out there.
Price: Free
Version reviewed: 1.1.1
Requires: 2.1 and up
Download size: 738KB
Kingsoft Clip (Office Tool) on Play Store
Related Posts