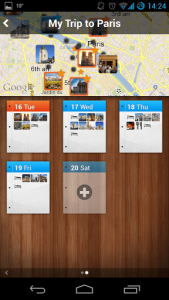 When you're traveling abroad –or traveling anywhere for that matter- one of the worst things you can do is not prepare for the trip. This especially holds true when you're visiting an unknown location or a foreign land. Hell, even when traveling in your own country there can be dire consequences if you're unprepared for travel. Tripomatic for Android helps you plan your trips and discover new places to visit along with various attractions.
What is it and what does it do
Main Functionality
Tripomatic is actually an online web service that allows you to plan a trip, find related information and locate attractions near your destination. The Android application taps directly into that service, and allows you access to all the popular Tripmatic features while you're on the go. One of the most notable features of the application is that it helps you create a simple itinerary for your trip complete with an optimal travel route.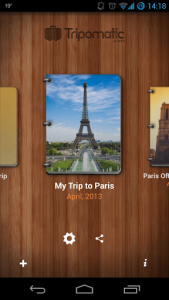 Pros
Quickly create and organize trips
Easily identify interesting activities nearby
Organize your daily schedule and connect activities to various days
Responsive, and easy to use
Relatively lightweight — uses only roughly 22 MB of RAM, which isn't bad
Cons
Maintains a constant GPS signal when the integrated map is active, even when running in the background
It would be nice if attractions included some kind of estimate regarding how long they take to visit
There are no review listings for attractions, this would be incredibly helpful when planning trips
From strictly within the app, you can see the distance from your current location to an attraction but you cannot see how long travel time would be (unless you open the location in Google Maps through the GPS link)
Discussion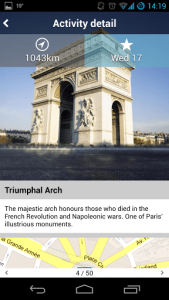 Cautionary statement: Tripomatic does use a constant GPS signal to perform various functions, and this can translate to significant battery drain especially when the app is used for extended periods of time. Keep that in mind and plan accordingly.
Tripomatic is essentially a comprehensive trip planner for a vacation or similar trip of some kind. In order to create your own trips you will need to sign in to the service or create a new account if you don't already have one.
If you don't want to go through the account creation process, but you're a new user you can always sign into the app with your Facebook or Google accounts. Of course, you will have to give the app permission to access your account so keep that in mind.
When the app loads, you're presented with a clean and attractive UI. There are only several options available the first time you use Tripomatic.
You can either create a trip from scratch with custom activities and time limits, or you can load one of the many sample trips. The two sample trips, which take place in New York and Paris, only show up in your trip list when you're not logged in.
A trip works like this: first you choose a location and then you disclose when you will be leaving on your trip. If you don't know the departure date that's okay you can toggle a button that indicates you're unsure. Tripomatic does warn you, however that certain features work better when a date has been entered. Personally, I didnt notice a significant difference except that the dates are used when planning out activities. When there's no date the activities listings just display "day 1," or "day 2," etc.
After the trip is all set up, you move on to the actual planning stages. There are only two windows, both of which can be navigated by swiping left or right. To the far left is the map and attractions list. To the far right is the activities planner or daily itinerary.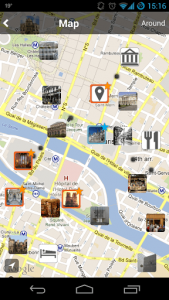 To actually start planning events for a trip you must do one of several things. You can add activities to the daily planner by exploring the map, and pressing the star icon in the point of interest descriptions. You can add them by browsing a special "Best of" list which shows popular attractions in the area. Finally, you can add a custom activity by long pressing on the map and editing its elements. The custom activity is designed to be a great way to share with others when you discover a notable attraction worth checking out.
Each point of interest on the map may or may not include a short description of the location or attraction, an address, a contact phone number, opening hours, admission fees, a link to GPS coordinates and a photo. When you're viewing an activity page, you can swipe left or right to go to the next closest attraction nearby.
You can access a completed trip at any time later and browse your activities. This allows you to see how many activities you have planned per day while you're actually on the trip.
The application works well but there are some things missing. Although minor, it would be nice to see community reviews for an attraction, that way you can decide whether it's worth your time or not. You don't want to realize too late that you've been sucked into a terrible tourist trap.
It would also be helpful to see an estimate on how long it takes to see an attraction. For example, if I know visiting the Statue of Liberty takes a good four hours than I can plan the rest of my daily schedule accordingly.
Luckily, you can synchronize trips between the web service and the mobile application as they're account based. So, if you also frequent Tripomatic through your browser you won't lose any content edits or personal trip guides.
Conclusion and download link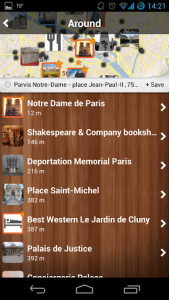 Tripomatic is a pretty cool app that allows you to plan a trip based on attractions close to your destination. You can personalize the trip by scheduling attractions for certain days, and even add custom attractions for places you might want to visit but are not available through the app. It's a useful application to plan a trip before the fact, and it also serves as a guideline of sorts.
However, in its current state it's hard for me to recommend the app to anyone serious about taking a trip. There just seems to be too many features missing, like attraction reviews, detailed reports, estimated visit times and more. Not to mention the battery drain from a constant GPS signal, it would be terrible to have your phone die when you're somewhere unknown. If you need to plan a trip, you are better off going with old pen and paper rather than Tripomatic, in my opinion.
Price: Free
Version reviewed: 1.0.2
Requires: 2.2 and up
Download size: 6MB
Related Posts