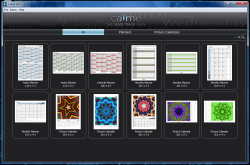 Because pretty much everyone owns a smartphone or tablet these days, calendars have made a big push into the digital realm. Although paper calendars still exist, a lot of people no longer use them. If you're on the opposite side of that spectrum however, then you probably love being able to track passing days and appointments with a physical paper trail. Calme is a free application that lets you create personalized calendars or planners, which can be printed directly to paper.
What is it and what does it do
Main Functionality
Calme offers a wide selection of calendar/planner templates, which you can personalize and then print out to use as a traditional calendar or planner. This app is especially useful if you want to spruce up your workplace or cubicle. You can personalize both monthly and yearly calendars and that includes outfitting them with personal photos.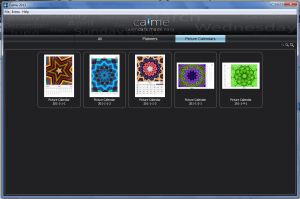 Pros
Quickly personalize a calendar or planner to print on paper
Easy to navigate and use
The Picture Calendar templates support custom photo uploads
Can be adjusted for a plethora of media sizes (Letter, Legal, A4, A5)
Detailed previews of what the finished project will look like
Includes several different application themes to adjust window appearance for Calme
Automatically uses the default printer connected to a system, you can choose from several printers if there are multiple devices connected
Cons
It would be nice if there were more templates available
National holidays not displayed by default, you can download the necessary content pretty quickly though
You cannot customize the actual layout of any template, you're stuck with the pre-configured ones
Only two languages available, German and English
Discussion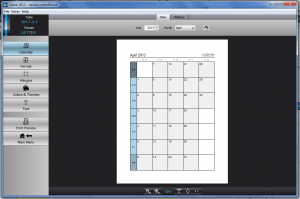 I'll be perfectly honest here. Calme is not for everyone, in fact it's for a very niche group- especially in this day and age. It's not that printers have gone out of style, nor that traditional calendars are no longer used -because they most certainly are- it's that a large number of folks could care less about personalizing and printing paper calendars. Digital planners are so much easier to organize, they're extremely convenient and they're always accessible. That being said, if you still have interest in Calme then keep reading!
The program itself is straightforward. You can create calendars and planners by adjusting various aspects of a template, and then print the finished product to paper.
It offers various templates which you can personalize to create a unique calendar or planner of your own. There are only twelve different templates, and this is perhaps one of the biggest issues I have with the app. To break it down, there are 6 different planner templates and 6 different picture calendar templates. It would be nice to see more templates available, but this is free software after all.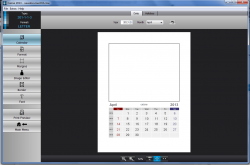 To start personalizing a planner or calendar, all you have to do is choose one of the various templates from the list. On the Calme home screen, you'll find three tabs, one labeled "All" that displays all of the templates, one labeled "Planners" that displays all of the planner templates and the final tab is labeled "Picture Calendars" for the templates of the same name.
When you enter the template editing window you'll be presented with some new options. On the right hand side of the screen is a preview of the planner or calendar, while the left hand side of the screen includes the many customization options.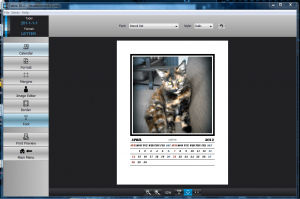 When it comes to the planner templates, you can mess with the format, margins, colors and font. As for the picture templates, you can edit the month and year of the calendar, add a background image and play around with a simple border (along with the other options I mentioned above). With both template types, you can also see a print preview, which basically shows you exactly what the printout will look like.
There's one pretty convenient feature that's been implemented for the picture templates, they support drag and drop functionality. To translate, you can drag images from an open Windows Explorer session and drop them right into the upload box. Although, you cannot just drag and drop randomly, you actually have to place the cursor within the designated area.
Another particular nuance is that you cannot actually edit the layout for each template. Instead, you can only alter various aspects of the calendar. That means, if you like a layout but want the calendar displayed a little differently than you're out of luck.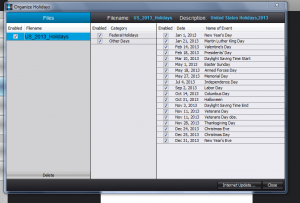 It seems a little silly but Calme does not include holiday data by default- you have to add this information manually. There is an additional menu to organize recognized holidays and luckily, there's an option to download updated holiday files which are stored online. In the appropriate menu, and after choosing your home country the application will download the related files and integrate them with your calendars. It is then and only then that they display national holidays, unless you add them manually yourself.
You can print from directly within the app once you're finished editing a calendar or planner, of course. You can also format the content for different media sizes like Letter, Legal, A4, A5 and more.
Conclusion and download link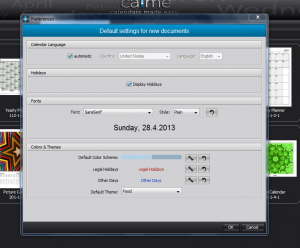 Ultimately, Calme is a pretty neat app that allows you to quickly personalize a calendar or planner and then print it to paper using a connected printers. While it appear to be missing some more robust customization support, you can tailor a calendar by changing various aspects of the initial template. Unfortunately, you cannot change anything in regards to a template's layout — you're stuck with the layouts that come bundled with the application — but six of the twelve total templates include support for custom photos, meaning you can upload your family photos and create a unique calendar out of them.
If you're looking for complete control over how each calendar and planner is designed, then this probably isn't the app for you. But, if you want personalized calendar or planner and you don't mind choosing from a handful pre-configured layouts, with minimal personalization support then Calme is great.
Price: Free
Version reviewed: 2013.0
Supported OS: Windows (2000, NT, XP, Vista, Seven, Eight)
Download size: 2.31MB
VirusTotal malware scan results: 0/45
Is it portable? No
Related Posts