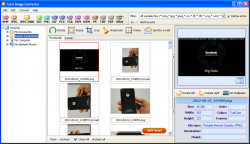 Much like how there are many video formats, there are many different image formats. If you frequently work with images, you need something to deal with all these image formats. In other words, you need an image converter. CoolUtils Total Image Converter is one such program. Let's see if it is worth your time.
What is it and what does it do
Main Functionality
As the name indicates, Total Image Converter is an image converter; it lets you convert your images between different formats.
Pros
Supports many input/output formats

Input:

BMP, JPG, JPEG, ICO, TIF, TIFF, PNG, WMF, EMF, PCX, TGA, GIF (including animated GIF), DCX, PXM, PPM, PBM, PGM, J2K, JP2, JPC, J2C, JPE, FAX, G3N, G3F, DIB, RLE, TARGA, VDA, THM, ICB, VST, WIN, CRW, CR2, DNG, NEF, RAW, RAF, X3F, ORF, SRF, MRW, DCR, BAY, PEF, ARW, RW2, PSD, PDD, PCD, CUT, DCM, DICOM, AVS, CIN, DOT, DPX, FITS, FPX, HDF, MAT, MIFF, MTV, PALM, PCL, PICT, PIX, PWP, RLA, SGI, SUN, SVG, TTF, VICAR, VIFF, XBM, XCF, XPM, WMZ, EMZ

Output:

BMP, JPG, JPEG 2000, ICO, PNG, GIF, PCX, TGA, PXM, RAW, PS, TIFF, PDF, AVS, Kodak Cineon, Graphviz DOT, SMTPE DPX, FITS, HDF, MIFF, MTV Raytracer, Palm Pixmap, HP PCL Printer, Apple PICT, Irix RGB (SGI), SUN Rasterfile, VICAR, Khoros VIFF, XBM, XPM

As from converting images, can crop, rotate (90 degrees CW, 90 degrees CCW, 180 degrees), flip (horizontally, vertically), resize, add transparency, add image water, add image frame, or add text comment (like a text watermark)
Supports batch processing — you can convert images in batch
You can also batch crop/rotate/flip/resize/add transparency, watermark, frame, and comment while converting images to another format

However, if you are not converting to another format, those feature by themselves do not support batch processing (e.g. using the 'Resize' button from the toolbar right above thumbnails does not support batch processing).

Can email images
Can set an image as your wallpaper easily with the click of a button
Has a built-in image explorer that allows you to preview images as thumbnails, making it easier for you to select the right images to convert as opposed to having to select by name (you can also switch to 'Detail' mode if you prefer not viewing thumbnails)
Adds an entry to the right-click context menu of images for easy conversions
Supports command-line execution
Good performance (is not slow and I didn't notice any distortion in output quality of images)
Cons
Extremely busy interface; makes the program appear more complicated than it really is
Can't resize by percentage, only by pixels (e.g. you can't do resize by 50%, you must do absolute resize based on pixels)
Has an annoying and intrusive built-in ad for the developer's other programs
No proper drag + drop; you can drag + drop images into the main program interface but all dragged + dropped images are converted to BMP — you don't can't pick a different format
Emailed images are resized to 1024×768 and converted to JPEG format instead of staying at original resolution and format
Has a built-in image explorer but no built-in search function to help make finding specific images easier
No offline help
Doesn't really offer any features that would make anyone want to spend $19.90 for this
Discussion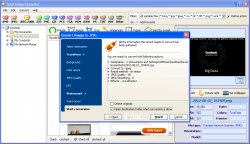 Total Image Converter is a program that wants to be more important than it actually is. When you visit the developer's website or see the main program interface, you will probably get a feeling of "this looks like a feature-filled and awesome program". However, when it comes down to it, Total Image Converter is just another image converter.
The program works as advertised and it does more than just image conversions, as mentioned in the 'Pros' list above. But really there is nothing in Total Image Converter that yells "get me now". In fact, there are aspects of Total Image Converter that yell "stay away". For example, the program interface is very busy — more busy than the interface of an image converter needs to be. Another example is how the other-than-conversion features of rotate, flip, resize, etc. don't work in batch unless you are using them in combination with conversion. (Note: This may be a bug. To me it looks like the program intends for you to be able to rotate, flip, resize, etc. in batch without having to convert images but, while using the program, I was unable to do so.) Yet another example is how you cannot resize by percentage. To top it off, the developer has an intrusive built-in ad that appears at the 'Want more?' stage whenever you use any of the features of Total Image Converter (conversion, rotate, resize, etc.). An ad in a shareware program? Say what?!
If there were no other image converters in the world, then I'd say: okay, Total Image Converter is a good program. However, there are dozens of image converter programs (freeware and shareware), and, in such a highly competitive genre, Total Image Converter is nothing more than ordinary.
Conclusion and download link
Total Image Converter has the features expected to be in an image converter, but it fails to do anything that wows. Sure, it works as advertised but why would anyone want to spend $19.90 on a program that does something that dozens of freeware programs can do? I'd recommend saving your money and not getting CoolUtils Total Image Converter.
Rather than getting Total Image Converter, if you want to be able to convert images I recommend checking out any of the following:
All the just-mentioned programs are freeware and excellent.
Price: $19.90

Version reviewed: 1.5 .109

Supported OS: Windows

Download size: 8.6MB

VirusTotal malware scan results: 0/46

Is it portable? No

CoolUtils Total Image Converter homepage
Related Posts