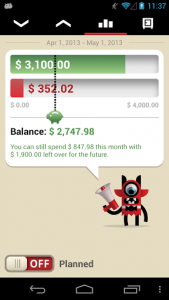 Let's be honest, managing your finances sucks. Unfortunately, it's something that we all have to do, because it helps you live within your means. Although, I'm sure some people don't know how to budget, but that's a different story altogether. Most finance tracking tools that I've come across are complicated, or take hours to set up. A spreadsheet, for example, can take a long time to properly put together and even so you can't always access a spreadsheet while you're out and about (unless it's stored via Google Drive or a similar cloud service). Toshl is a free app for Android that allows you to quickly manage your finances through a simple and easy to use interface.
What is it and what does it do
Main Functionality
Toshl is a simple and easy to budget tracker for Android that helps you quickly organize your finances and keep track of excess spending. There are several functions available like a bill organizer, budget tracker, travel companion and more. Toshl is also accessible via the web through an online service, so you can sync content and data between devices. If you're at home and you want to manage finances on a larger screen, all you have to do is sign in to the Toshl web service. All content is synched, even in the free version.
It should be noted that Toshl is also accessible from any web browser via a web service. The mobile application synchronizes with the web service, unless you tell it otherwise. For this review, I'm only reviewing the mobile application, and the free version at that. There is an optional paid subscription, which costs $1.99 a month, or $19.99 a year, and it unlocks additional features.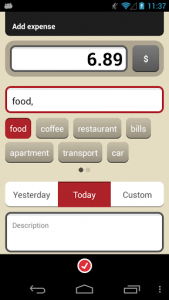 Pros
Expenses are organized by date
You can set a custom reminder to enter expenses every day at a certain time
Every time you close the application it syncs with Toshl servers (you can change this to sync via Wi-Fi only or never)
The app supports a passcode lock for extra security
There are a TON of different currencies available
You can export your expense reports as PDF, Excel, Google Docs and CSV files
You can edit and delete expenses at any time, as well as income sources and active budget trackers
Adding more than one income requires a Pro account, to circumvent this you can just total up your income

Repeating Incomes are for Pro users only (you can set an income to repeat daily, weekly, monthly or more)

Adding more than one active budget tracker requires a Pro account
You have to enter a tag in order to submit an expense
Discussion
Toshl is incredibly convenient and responsive, that's the main emphasis here and it's clear that's exactly what the developers wanted. When you start the application for the very first time you have the option of signing up for a new Toshl account, or using your Google sign-in. Personally, I always opt for the new account because I hate allowing access to my social accounts, but that's just me.
There are four main tabs to Toshl, all of which are fairly straightforward.
Expenses
Income
Balance
Budget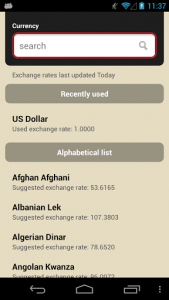 Income is obviously where you add your incoming revenue stream. Unfortunately, in the free version you can only add one income per month. Also, you cannot schedule a regular income with various intervals, that's another Pro feature. That would be extremely useful, especially since you can just add a monthly income and schedule it to arrive every month.
The Expenses tab is where you track your outgoing expenses, obviously. There's no limit here, at least not one I could find. To enter an expense you just click the big red plus sign at the bottom of the window, submit the amount, and then fill in the necessary information. One nuance, although minor, is that you have to enter a tag for all expenses. Tags work just like they do elsewhere, and essentially they're meant to organize the expense entries a little better. Unlike income, you can schedule expenses via daily, weekly, monthly (and more) increments.
The balance tab shows your expenses against your income. Here, you can see if you're living above your means, and how you're doing with any budges you've set.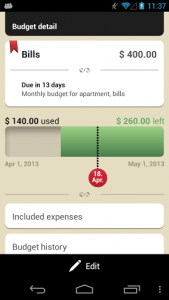 The budgets tab allows you to enter a custom budget for a certain period of time. For example, if I wanted to set a budget of $200 across all expenses for the next two weeks, than the budget tab is where I would do it. Again, in the free version you're limited to only one active budget at a time.
Toshl does add two widgets that you can use for your home screen, but both do the same thing (they're just different sizes). It's a quick shortcut to add an expense. This will come especially in handy when you're out on the town and you spend a little more money than you planned. You can just enter it into your budget tracker right on the spot.
Toshl is great at what it does, but it's important to keep in mind that it's only meant to be a simple tool. If you have a very complex budget, then I'm afraid you'll be better off going elsewhere.
For reference, Toshl uses about 20MB of RAM while running.
Conclusion and download link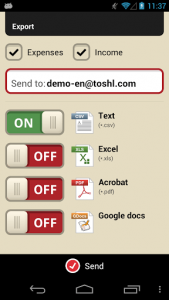 Toshl is a very simple and easy to use finance tracker. A premium version is offered which includes additional features, and it's really not that expensive ($1.99 a month). As it stands, the free version works great but it will only be useful to anyone with a rather simple budget. You can only enter one source of income per month, and have one budget tracker active. It does synchronize with the web service so you can track your budget across several devices, and online support is offered even in the free version. If you're looking for a simple little budget tracker then Toshl is right up your alley.
Personally, I will not be using this app because I need something a little more detailed in order to track my finances –freelance work is a real pain to normalize. At the very least, I need to be able to enter in more than one income source, and that's only available in the paid version. The app just does not meet the requirements that I need, and that is all.
Price: Free, $19.99 per year (Pro license)
Version reviewed: 1.7.8
Requires: 2.1 and up
Download size: 3.6MB
Related Posts