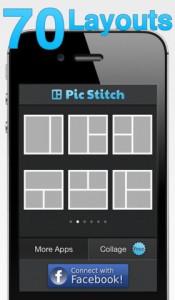 Sometimes, one image just isn't enough to capture your favorite moments in time. Whether you want to capture a stunning vista from your favorite vacation spot, or need to get a couple of different angles of the guests around the table at your birthday dinner, a photo collage is often the best option. If you like making photo collages, there are a ton of different apps out there that can make it easy. I've been a fan of GridLens, but another popular option is an app called Pic Stitch.
What is it and what does it do
Main Functionality
Pic Stitch lets users create photo collages. In addition, users can edit their photos with various tools and effects to make each shot look picture-perfect.
Pros
Offers far more frame options compared to similar apps like GridLens
Pull in photos from your Camera, Camera Roll, or Facebook
Export photos to any installed app that accepts JPEG images, from Evernote to Dropbox to Instagram
Order prints to be picked up at Walgreens from within the app
Share photos to Facebook, Twitter, and Instagram (or share via email)
Cons
In-app purchase is required to unlock all frame layout options
UI is pretty good, but not quite as smooth as similar apps like GridLens
App features both banner ads and pop-up ads to make in-app purchases
Discussion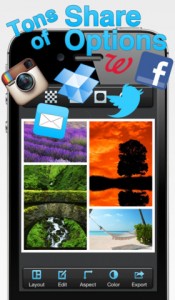 The controls are pretty decent, and the UI is quite good. After you select your desired frame style, you tap twice on a part of the grid to add a photo, then tap once on the same grid if you want to edit the photo.
It's pretty straightforward, though I had some issues with responsiveness. The double tap gesture didn't always work on the first go, and tapping on another square while a different square is loading an image results in the wrong square loading.
That being said, there are some great opportunities for precision editing. You can touch and hold an image, allowing you to zoom in and zoom out of the image. To add another touch, you can layer stickers or various filter effects on top of the original image.
You can also enhance your images with one of four tools: auto, night, backlit, or balance. Orientation, contrast, brightness, sharpness, and saturation of an image can also be changed. Tools are available to remove blemishes or combat red-eye. You can also place text or drawings on top of your images: there's even a "meme" setting for orienting your text at the top and bottom of an image.
Overall, I'm pretty happy with my Pic Stitch experience. There are a ton of different layout options and aspect ratios, which makes it really easy to pick just the right template for making your next creation. Best of all, it's free!
Conclusion and download link
If you want a photo collage tool that also lets you manipulate and filter your photos at the same time, Pic Stitch is a solid blend of photo editing and collage construction. There are a few minor quibbles I have with the UI, but it is ultimately worth downloading and trying it out for yourself.
Price: Free
Version reviewed: 3.6
Requires iPhone/iPad/iPod Touch, iOS version 5.0 or later
Download size: 27.8 MB
Related Posts