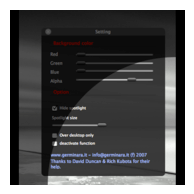 Sometimes, communication is hard. If you work on a team where you need to collaborate with people who work in a different office, it can be really hard to clearly explain what you're looking at. After all, a screengrab or screen-share can only go so far. If you need to metaphorically "shine a little light" on a subject, a handy Mac app called FGDesktopLoupe can help you literally shine a light.
What is it and what does it do
Main Functionality
FGDesktopLoupe is a Mac app that turns your cursor into a flashlight. This app allow you to shine a light on one area of your screen to point something out to the viewer, while the area that isn't highlighted is dimmed, to provide a better contrast.
Pros
Spotlight size is easily adjusted to showcase areas both large and small
Color of the dimmed background area can be customized
Toggle the dimmer effect on and off with a simple keystroke
Takes up very little space on your drive and is quite simple to use
Tons of uses for work and home
Cons
Settings menu was a little buggy at times, and wouldn't always pop up when commanded
One key control toggles would be simpler to execute, and it would be nice to have the option to customize which keys activate the spotlight and the spotlight menu
Settings are not saved from session to session
Discussion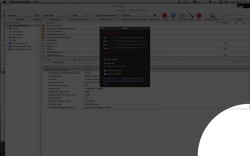 As you would expect from such a small, tightly-focused app, FGDesktopLoupe has super-simple controls. To toggle the dimmer effect on and off, you just use CMD+ALT. If you want to open the settings menu and adjust the size of the spotlight, the control is CTRL+ALT.
You can also change the size of the "loupe" area to showcase a very specific, small area, or a much larger area. The sliding controls make it very easy to test out different combinations and find the combo that will work best for your intended purpose.
There are tons of options for customizing your background/dimmer color. There are sliders for red, green, and blue to customize the color, as well as an "alpha" slider that sets the opacity of the non-highlighted area to be clearly visible, totally opaque, or any level of transparency in between.
You might be wondering what, exactly, this app would be good for. It's definitely a niche tool, but I think it would be useful in a ton of different situations. It's first and foremost, in my mind, a great collaboration tool. You can use this to highlight areas of a webpage, design, or document, and showcase the flaws in that highlighted area with a colleague who works in a remote office.
In addition, this app would be helpful for people who want to highlight a specific part of a video or image, like on a blog. It would also be a great tool to have in your arsenal when giving a presentation, talk, or lecture: you could easily draw your students' focus to the correct part of your screen.
Conclusion and download link
If you need to clearly point out an area on your screen for taking a screenshot, or for giving a presentation, FGDesktopLoupe is a very small, simple tool that can help. It may only do one thing, but it does it very well. While it may seem like a limited tool, it has tons of applications for use at work, at home, or on the go.
Price: Free
Version reviewed: 1.1
Supported OS: OS X 10.6.6 or later

Download size: 0.2 MB
FGDesktopLoupe on Apple App Store
Related Posts