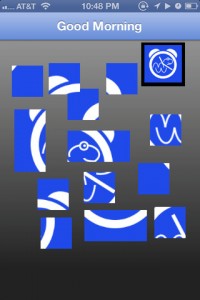 I am not now, nor will I ever be, a morning person. As much as I want to be the kind of person who wakes up with that "carpe diem" feeling. My brain is just wired to stay up late, and I'm usually far more productive and creative at 9 pm than I am at 9 am. That being said, I still need to get up in the morning. I have a tendency to hit "Snooze" a lot, which can be really annoying if you're sharing a bed with someone. What I was looking for was an alarm clock that would actually help me get out of bed, and force my brain to wake up. I decided to investigate a Gumdrop Laboratories app called Morning Worm, a puzzle alarm clock.
What is it and what does it do
Main Functionality
Morning Worm is an iOS alarm clock that makes you complete a puzzle or other task in order to turn off the alarm sound.
Pros
Great for heavy sleepers, "morning after" party-goers, snooze button addicts, people who NEED to make an early flight or breakfast meeting, or as an occasional alarm for people who have a hard time getting up when it's rainy and cloudy outside
App features a loud siren as the default noise, but you can use your own music as well
Cons
Additional wake-up "triggers" must be paid for separately via in-app purchase
Only two "triggers" come pre-loaded, but only two more triggers are currently available to buy
Two "triggers" available via in-app purchase aren't different wake-up games, but more of the same: puzzles.
Discussion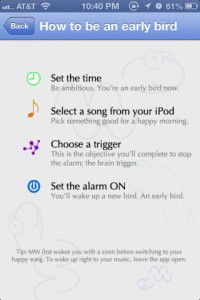 I personally like to be woken up gently: if a loud noise wakes me up, the stress can give me a headache first thing. I like that you have the option of setting Morning Worm to the default siren for days when you need to make completely sure that you'll get up, but that you can also choose a soothing song from your iTunes library.
Morning Worm offers a bunch of "triggers" to help you get up in the morning. These include completing a jigsaw puzzle, as well as a mode called "Shake & Wake." The idea behind that one is simple: shake your phone hard 30 times in a row to turn off the alarm. This gets the blood pumping and makes it harder to fall back asleep.
One thing that I think might improve this app (besides adding some additional triggers) would be some added functionality in the jigsaw puzzle mode. I wish that you could vary the size of the puzzle (the default setting is 16 pieces.) I also wish that you could customize your puzzle with photos from your Camera Roll, or randomize the puzzle images every day to keep things fresh.
There's also an interesting feature in this app called "Wooze," which is Morning Worm's version of the snooze button. You can set Wooze to set off your trigger of choice up to three times to make triple sure you'll get out of bed, and get where you need to be.
Conclusion and download link
If you continually find waking up with your first alarm to be a struggle, Morning Worm can help blast you into a waking state. It's a simple tool that can help you beat your snooze button addiction.
Price: Free
Version reviewed: 1.2.2
Supported OS: Requires iOS 6.0 or later

Download size: 5.9 MB
Morning Worm Puzzle Alarm Clock on Apple App Store
Related Posts