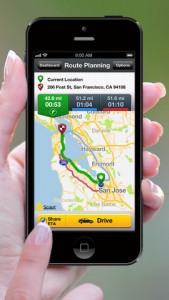 Apple fans recall the frustration and hilarity that ensued during the infamous Apple Maps debacle. Months later, there are still plenty of Apple Maps users who aren't happy with the app's performance. I had a really bad Apple Maps experience over the weekend: we were trying to get to a local hospital, and Apple Maps sent us completely in the wrong direction! When we saw how far off course we were, we switched to Google Maps…and while things went better after that, even Google Maps didn't give us the best directions!
I'd used Mapquest in the past and liked it, but the UI is a lot more cluttered than it used to be. Also, it doesn't always recommend the quickest, most direct routes. With the Big 3 of iOS map apps all somewhat of a disappointment to me, I decided to try out a new map app: Scout.
What is it and what does it do
Main Functionality
Scout is a GPS, map, and voice-based navigation app. In addition to providing directions, Scout also also provides users with "Places To Go" recommendations for dining, entertainment, lodging, shopping, coffee shops, and more!
Pros
You can use the app without creating an account
Beautiful, simple design
Winner of tons of awards for excellence in 2012
Now syncs with your calendar
Provides real-time ETAs to let your friends and family know that you're on your way, and when they can expect you to arrive at your destination
Traffic advisories are provided to help commuters make it home as quickly as possible
A product offering that comes from TomTom, a trusted name in navigation tech
Crystal-clear voice directions
Cons
Limited to the US… for now
GPS doesn't quite have pinpoint accuracy nailed down: for example, app wasn't able to tell when I had arrived at my home address
Map interface is a bit cluttered with logos, search bar, zoom toggle controls, and copyright info: why can't I dismiss this stuff and just look at the map without all the clutter?
It doesn't seem to be possible to change voice options, which might be problematic for some users
Discussion
The first thing I thought when I saw the maps and navigation screenshots from Scout was, "Wow, this looks like a fake app they'd used in a movie!" I mean that as a compliment: Scout is easy on the eyes, and has the kind of big-screen polish that not many apps out there can provide.
I loved the voice directions, and overall, I felt that Scout was giving me better directions that Apple or Google Maps. That being said, I was less impressed with the map view: there's too much clutter to get a good sense of things, and the zoom controls seem completely superfluous when you can just pinch to zoom.
Be forewarned: if you want to use this app outside of the US, it will not provide you with the info you need. That being said, the Dashboard of this app is a great "home base" for personalized things like traffic info, your home/work info (and related ETA notifications), local weather, recent places you've visited, and more.
Overall, I think I'm a Scout convert. It has a lot of nice perks. I probably will keep all my other navigation apps as well: it seems like I always need to have a backup app for when one GPS tool goes on the fritz. With Scout, so far, things have been great.
Conclusion and download link
If you're still frustrated with Apple Maps and don't want to get Google Maps, Scout offers some helpful tools to get you where your going. The travel-related tools provide info on local amenities and attractions. Give it a try, because it's a solid app!
Price: Free
Version reviewed: 1.8.0.107
Supported OS: Requires iOS 5.0 or later.

Download size: 28.9 MB
Related Posts