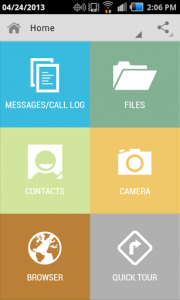 Sometimes it's necessary to hide files/contacts/messages/photos/calls/etc. on your device. With smartphones that's not always so easy to do, but there are apps like Hide It Pro, that allow you to mask sensitive files and data. Text and File Hider Plus, or just Hider+ for short, is one such application that allows you to store sensitive content in a unique digital vault.
What is it and what does it do
Main Functionality
Unlike most other apps with hiding capabilities, Hider+ will actually store related content in a digital vault of sorts. Content like text messages, contacts, files and phone logs can all be hidden from view. Furthermore, the application is actually masked, and it appears as another app entirely called "Battery Plus," which displays battery statistics and information.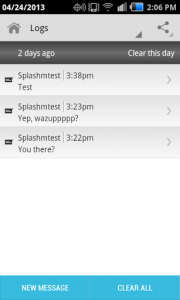 Pros
The application hides itself as "Battery Plus", so people don't suspect you are using it to hide stuff

Shows up in app tray as Battery Plus
Shows up in Android apps list (settings) as Battery Plus
The app opens a fully working battery stats widget (snoopers will be none the wiser)

To access the main app you have to long press a battery image in the widget (it's pretty cool)
The UI is clean, responsive and attractive
You can add contacts and compose messages directly from within the app
Hides a plethora of content from view

Call logs and text messages
Files
Photos
Contacts

No advertisements
Includes a detailed quick tour and tutorial
Cons
Uses 34MB of RAM while running, is a moderately high amount
When opening recent apps you can see previous screens if you were last using the main app (not the widget)
Hangs a bit during the very first startup
Launches default camera application to take photos
Images are not displayed via a hidden gallery, instead you see them as files in a list
Discussion
Before I start the actual review I have to say it, the way Hider+ masks itself as another application is just ingenious. Instead of installing an icon as "Hider+" the app appears to be another app called "Battery Plus." Battery Plus actually has a fully functioning battery stats widget. Get this- in order to access Hider+ you have to open the Battery Plus widget and long press on the battery icon. This will launch the real application, but before being allowed access you also have to enter a personalized pin number. If that doesn't constitute as locked down well then I don't know what does. The application even appears in the Android apps list as Battery Plus, so anyone snooping would be none the wiser.
The first time you start up the application it will take you through a guided tour of the interface, and you'll need to set up a personalized pin. It will also ask for an email address, which will be used to recover your pin should you ever forget it. One thing in particular that I noticed is after tapping on the Battery Plus icon for the first time (to start Hider+) it was a while until the app actually launched. I'm not entirely sure why, maybe it had to set up the widget first but keep that in mind. To translate, be patient the very first time you start the application.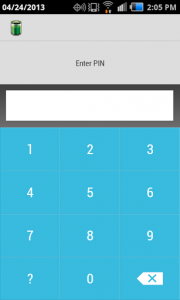 You can open the app one of two ways, both are pretty much the same though. You can add the application icon to a home screen, or you can leave it in the app tray. Either way, tapping the icon will bring up a battery stats widget, and then you have to long press the battery image to access Hider+. I know I've already covered that above, but I figured it wouldn't hurt to cover it again. Some people skip over the meat of a review entirely and only read a small portion.
Once you're in the application you can hide content on your device including messages, call logs, files, contacts, and photos. There's also an integrated web browser that works like "Incognito Mode" in the Google Chrome browser. When using the Hider+ browser no data is ever stored, including cookies and cache files.
The interface is pretty easy to navigate and responsive too. The Hider+ main menu is laid out in the following order:
Messages/Call Log
Files
Contacts
Camera
Browser
Quick Tour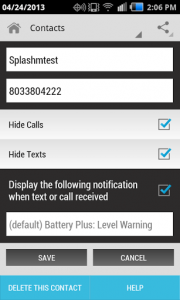 It's important to note that while you can hide contacts with the app, incoming calls and callerID information cannot be blocked. However, individual call and message logs from hidden contacts will always remain within the app. In other words, with hidden contacts someone will still be able to see who's calling right when they call but the stored logs are exclusive to the Hider+ app.
You can also add contacts, and compose text messages directly within the app. That's exactly how the information is hidden. All the related content is stored in a digital vault of sorts.
The camera link will open the default camera on the phone, and if there are multiple cameras installed then the usual dialogue will appear and you can choose which one you'd like to use. Once you've taken a photo, it will be stored in the "Files" category of the app. By default any photos taken within Hider+ will be hidden from the main Android gallery. You can choose to un-hide the photo if you'd like it to be visible in the gallery by long pressing on the image in the files list.
It's pretty straightforward stuff really. All the internal applications and functions work like the stock Android apps. The only difference is that all content remains locked away and hidden, and the only way to access it is through the Hider+ app. You can't even find the hidden content by browsing the device storage with a file browser. It's hidden that well.
For reference, Hider+ uses about 34MB of RAM while running, and it does run as a background process.
Conclusion and download link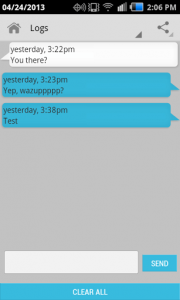 One of the coolest things about Text and File Hider Plus or Hider+ is that it really does make you feel like a secret agent when you're using it. You have to open a separate widget and long press on a hidden button in order to access the main app. Okay, so maybe the practicality of the software matters more but in this case it's just as good. All hidden content is locked away from view via a digital vault of sorts. You cannot access the hidden content without a proper passcode, and you cannot see it using a simple file browser (it would be shameful if you could). All of those features combined with the fact that the application is totally masked as something else named Battery Plus, results in a pretty secure hiding place for call logs, messages, photos and more. If you're looking to hide content from someone, or anyone for that matter, then Hider+ is a good way to do it.
Price: Free
Version reviewed: 1.0.3
Requires: 2.2 and up
Download size: 2.1MB
Text and File Hider Plus on Play Store
Related Posts