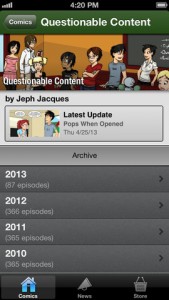 One of my all-time favorite webcomics is Questionable Content, written and drawn by the massively talented Jeph Jacques. In a recent news post on his site, Jacques revealed that his comics were officially available for iOS fans to read through a new iOS app called Comic Chameleon. Being a fan of Jacques in particular and comics in general, I decided to check out this new app and see what all the fuss was about.
What is it and what does it do
Main Functionality
Comic Chameleon is an iOS app designed for webcomics fans. This app lets you view comics as a whole page, or use panel-to-panel viewing.
Pros
Date-based archives make it way simpler to find a specific comic than if you were trying to navigate the site where the comics were originally posted.
Tons of the web's most popular comics shared here (with creator permission!)
Comics include titles like Questionable Content, A Softer World, Buttersafe, Dinosaur Comics, Overcompensating, Nedroid, Overcompensating, Sam and Fuzzy, Scenes from a Multiverse, Wondermark, and XKCD.
Simple to navigate, with intelligent design choices
Buy t-shirts, plushies, and other webcomics merch from within the app
Full archives for each comic!
Cons
Annoying banner ad placement
Ads don't seem to be able to be removed with an in-app purchase
No search functionality
Discussion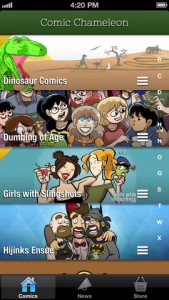 One thing that's really annoying for webcomic fans is tracking down your favorite strips. Most webcomic sites lack the ability for users to search for a favorite strip. You might be able to find the strip if you remember the date it was published, or the title of the strip. But let's be honest: most of us remember comics for their punchlines, not for their publication date or titles.
Comic Chameleon does make it super easy to navigate a given webcomics archive, and find a comic by publication date. However, I really hope that future updates of Comic Chameleon will add a search functionality. Searching for a comic by tag or title would be nice, but the ideal solution would be to add tags for character names or punchlines, to make it even easier for fans to find one particular strip.
A great thing about Comic Chameleon (besides the fact that all the comics creators have given permission to have their work shared in this medium) is the fact that you can view the full archives of every strip that's published through Comic Chameleon. There are no delays between publication on the web and publication on CC.
I'm excited to see how this app does. I hope that it will be successful enough to lure even more comics creators to share their comics on this platform, and make it a "one-stop shop" for webcomics fans. Some of the biggest successes in the world of webcomics are featured here, but the app only features about 25 comics. They are 25 of the best-loved webcomics out there, but I hope this app will continue to grow and feature even more comics.
Conclusion and download link
As someone who currently uses Google Reader to consume my daily diet of webcomics, I'm seriously considering Comic Chameleon as my main webcomic retrieval tool going forward. After all, Google Reader is an endangered species. With great navigation and tons of titles, every webcomic fan needs to check out Comic Chameleon.
Price: Free
Version reviewed: 1.0
Supported OS: Requires iOS 6.0 or later

Download size: 4.5 MB
Comic Chameleon on Apple App Store
Related Posts