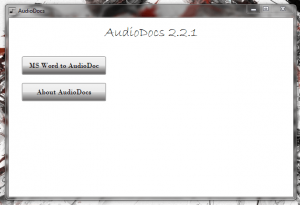 When I'm finished a writing project I usually like to read it back to myself. I have always thought it would be nice to hear the writing played back through an alternate voice, or even read by someone else. For the most part it helps me find serious errors, but it would also open up new opportunities. For example, I could move on to another project or complete other tasks while the content is being read aloud. AudioDocs will take DOC or DOCX format files and convert them into audio files (WAV). It's great if you want to turn some of your personal content into an audiobook.
What is it and what does it do
Main Functionality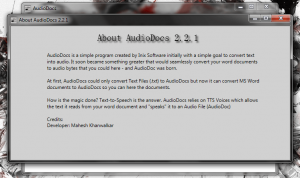 AudioDocs is a free and simple Windows application that converts Word documents (DOC/DOCX) into audio WAV files. It's great for creating personalized audio books that you can listen to on a long commute or while you're out for a jog.
Pros
The interface is incredibly simple

Converts Word documents into an audio file instantly
Conversion does not take very long at all
Cons
Requires .NET Framework 4.5
Requires Word 2007 or 2010 to be installed
Does not come bundled with any additional TTS voices
Menu is not very attractive (minor nuance)
Discussion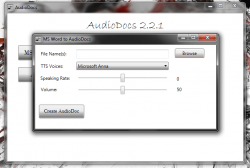 Unfortunately, in order to use AudioDocs you will also need to install the Microsoft .NET Framework 4.5. Luckily, it's included in the install package for the app. You will need to restart your computer after installing the Framework, however.
Once everything is installed, using the app is incredibly simple. The interface only has two responsive buttons. One button is to start an audio conversion, and the other button opens a window that tells you a little about the program.
When you start an audio conversion you'll first have to configure some settings. Obviously you'll have to tell the program what Word document you'd like to convert and where it is located. You can also choose the voice that will speak the audio. To convert simple words into audio, AudioDocs uses the Text to Speech engine built into Windows. By default, the only TTS voice available is the one that comes bundled with Windows.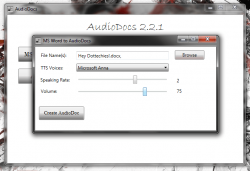 You can also designate the speaking rate at which the voice pronounces the words and the master volume of the audio file. That's it really. Once you've chosen all the necessary settings it's as simple as clicking the "Create AudioDoc" button.
The application will create a WAV audio file of the same name as the original Word document. The audio file is also stored in the same directory.
It works extremely well too. I typed up ten different files all of varying length from about 100 words all the way to 800 words. In the audio interpretations there were some odd pauses here and there but for the most part the translation is pretty accurate.
For reference, AudioDocs uses about 22,000KB of RAM while running.
Conclusion and download link
AudioDocs is an incredibly simple and lightweight application that will allow you to convert Microsoft Word documents (.DOC, or .DOCX) directly into an audio file (WAV). There are many reasons why you would want to do so, like creating a personalized audiobook. The application works well, and out of all the files that I converted I didn't encounter any issues with the translation. It is worth mentioning that there was a couple times where the computer voice paused a little longer than necessary. If you install custom TTS (text-to-speech) voices on your computer then you should be able to use them with AudioDocs. If you want the speech in the audio files to sound a little more natural then you'll certainly want to shop around for some better voices. That being said, AudioDocs is a fantastic little application, and it gets the job done.
Price: Free
Version reviewed: 2.2.1
Supported OS: Windows (XP, Vista, Seven)
Download size: 50.5MB (compressed), 51.3MB (unzipped)
VirusTotal malware scan results: 0/36
Is it portable? No
Related Posts