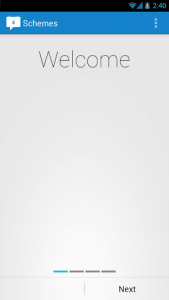 Have you ever missed a special moment before and then felt guilty about it after? I'm specifically talking about those times where you forget to wish someone a happy birthday or congratulate them on an engagement or milestone. It actually happens to me more than I'd like to admit, mostly because I'm absent minded. Schemes (Scheduled Networking) is a scheduled messaging tool that allows you to send out pre-configured messages at distinct intervals.
What is it and what does it do
Main Functionality
Schemes will allow you to send out pre-scheduled messages via Facebook, Twitter SMS or Gmail. It designed to help keep you on track when sending out those simple birthday wishes or generic congratulations messages. The app UI is simple, and stylish. The best part is that the app is free, at least while it's in the Beta stage anyway.
Pros
Send scheduled messages through Facebook, Twitter, Gmail or SMS
Successful messages will show up in respective app threads
All scheduled messages can be canceled
Notifications alert you when a message has been sent
Uses clean and responsive Holo UI
Simple yet efficient
Cons
After logging into accounts the app will prompt you to share links with friends (free advertising)
Uses about 43-48MB of RAM while running
No history or sent messages log
Discussion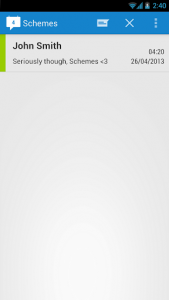 There's actually not much depth to this app, but that's not a bad thing. In fact, the minimal design and attractive UI are just a couple appealing features of it.
Right when you start up Schemes, it will prompt you to login to Facebook, Twitter and Gmail. Yes, in order to use any of those services you have to login, plain and simple. If you don't want to log in with any of those services that's okay, you can still use the SMS features of the app.
Once you're logged in, you'll be placed on the pending messages home screen. This screen displays all upcoming messages that are scheduled. If you don't have any, then it will tell you so. To schedule a message all you have to do is tap the icon in the top right of the screen. This will open a new window, which obviously includes all the necessary options to schedule a message.
There are check boxes for each of the three services, and of course SMS. Ticking any one of these boxes will designate the message to post via that service at the scheduled time. Next, you choose who the message is to. Unfortunately, you can only include one recipient at a time. Then you have to write the message content, or whatever message you're going to send. Finally, you have to assign a time and date for the message to be sent. Once all of that is done and you click save, you'll be brought back to the main page. You should also see your new scheduled message in the list.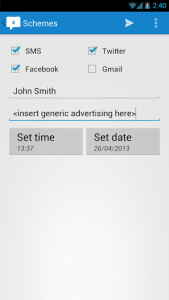 You can cancel a scheduled message at any time and stop it from sending, if you decide against it. Once messages are sent, you will receive a confirmation notification letting you know it was sent. The messages will also appear in their respective threads for the app they were sent through. Unfortunately, this is one of the current drawbacks of the app- there is no history. You cannot see what messages were sent through the app in the past nor what you scheduled previously. Hopefully this is a feature that will eventually be added.
Right now, while Schemes is still in Beta it's free. The developer did explicitly mention this, which leads me to believe that eventually it may cost money to use. Although, I have no idea how much the developer would charge for the app. Just keep that simple fact in mind.
For reference, Schemes uses about 43-48MB of RAM while running.
Conclusion and download link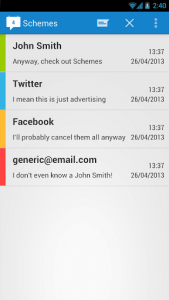 If you've ever wanted to pre-schedule messages via your Android, then Schemes is the ideal app for it. It uses a very clean and responsive UI that borrows elements from the Google's popular Holo interface. There's not much to the app but that's okay, because it's simple and convenient. Personally, I find Schemes very useful, and it's going to keep me from ever forgetting another birthday again.
Price: Free

Version reviewed: 0.41 (Beta)

Requires: Android 3.0 and up
Download size: 2.3MB
Related Posts