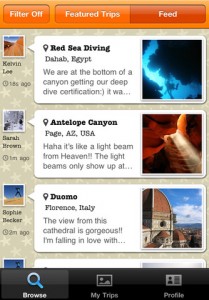 As much as I do enjoy taking pictures when I'm on vacation, I almost never get around to putting them in an album, or even organizing them in any way. Thankfully, there are some helpful tools that can automate the process of organizing your photos. Apps like Flayvr go a long way towards automatically organizing and grouping your photos, but I wanted something a little but more specific to the needs of a traveller. That's why I decided to check out TripColor.
What is it and what does it do
Main Functionality
TripColor takes your travel photos and creates a personalized portfolio of your travel memories. Images are grouped by the day they were taken, automatically.
Pros
Portfolios include interactive maps: great for retracing your own journey, or researching the trips of other people to mimic their routes
No network connection required: offline creations get uploaded automatically when there's an Internet connection
Create custom postcards and send them from within the app, using your own images
Plenty of filters and editing tools to make your photos look their best
Attractive, well-organized interface: it's easy to see how long each trip lasted, and where each journey started.
Sign in with Facebook, or create a new account with TripColor
Cons
Login isn't required to browse other people's travel journals, but it is required if you want to build your own travel portfolio
Annoying banner ads
You can print postcards, but not albums…unlike other travel photography apps
No search functionality for finding images of specific locations around the globe
Discussion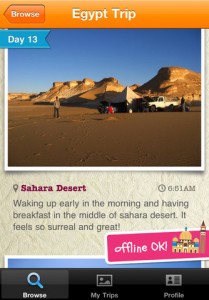 One thing that I really like about this app is that you can sort through other people's trips. Not only is this a great way to get inspiration and actionable information about routes, but you can also see trips sorted by content. Just tap the "filter" button, and you can filter results in your feed by tags like "exotic," "city," "culture," "romance," etc.
While it is nice to be able to use the "explore" tab to see recently-posted images from other users, there's no way to simply search for images/trip guides. With an app like this, I want to be able to get trip planning ideas from other users: not being able to search for "Eiffel Tower" or "Bangkok" feels really limiting.
That being said, this app is great for automatically organizing your photos into neat and tidy albums. I'd never go back to using another photo app while I'm on vacation ever again.
Flayvr does do something similar, admittedly, but TripColor is far better for people who are passionate about travel…and passionate about sharing their travels with people they care about.
Conclusion and download link
TripColor is a great tool for people who love to take photos, but who hate the hassle of organizing their photos for ease of reference later on. With summer just around the corner, TripColor is a great tool to have in your arsenal on your next vacation.
Price: Free
Version reviewed: 1.0.16
Supported OS: Requires iOS 4.2 or later.

Download size: 26.0 MB
Related Posts