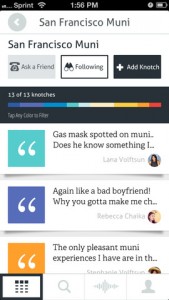 Back in high school, everyone was crazy about Hot or Not? Back in the day, Hot or Not? wasn't the quasi matchmaking service that is today, but rather just a site to rate the photos of random strangers. At our core, I think people love to share opinions and pass judgement on others…and I think we also like to see what other people are saying about a topic before and after we weigh in. If you loved Hot or Not? back in the day, but want a broader range of things to weigh in on, you might enjoy the social networking app Knotch.
What is it and what does it do
Main Functionality
Knotch lets you show your "true colors"…literally! This app lets you give your opinion on anything using a color thermometer approach. You can decide what's hot, what's cool, and what's just plain "meh."
Pros
Weigh in with your opinions on everything from pop culture to local restaurants to random daily minutiae
Great, modern design
Offers a good sense of community: you can follow topics or people that you find interesting to keep the conversation going with them
Too many opinions? Tap on a color on the "knotch" board to filter out opinions of one particular color/rating
Cons
Currently, this app is Facebook login only: this is a turnoff for many users
App is still pretty new, so some users have complained that the app feels sparsely populated with active users
App is not universal, and it doesn't appear to have a version that's been optimized for the iPad's larger screen
Discussion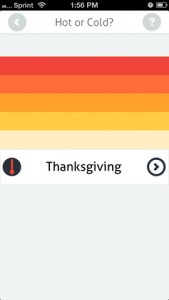 The highlight of Knotch is its intuitive, fresh, and modern design. The color-based opinion system is genius, and the overall "rainbow effect" created in this app is really quite stunning.
The Knotch app is still pretty new, so I have seen plenty of user complaints about how the app can feel like a ghost town at times. That being said, the users who are active on Knotch are very active. What's more important is that the community seems to be very respectful of each other, and of differing opinions on even the most controversial topics.
For people who avoid YouTube comments, Xbox Live fights with verbally abusive strangers, or inflammatory pot-stirrers on Facebook, Knotch is something of an oasis: here people share differing opinions without getting personal.
Overall, this is a great app. However, it would make me happier if there was at least one other method for logging in. And judging from the user reviews I read online, I wouldn't be the only person who would be happy to see Knotch offer a non-Facebook login option.
Conclusion and download link
If you want to "take the temperature" on any hot-button issue, Knotch's sliding temperature scale is a great way to determine if something is hot, cold, or somewhere in between. One user review described Knotch as "the most addictive app since Facebook." I don't know if I'd go that far, but at least the layout and stream of information in Knotch is far more clean and digestible than Facebook. If you're passionate about sharing your opinions, give this app a spin.
Price: Free
Version reviewed: 1.2.1
Supported OS: Requires iOS 5.0 or later.

Download size: 7.3 MB
Related Posts