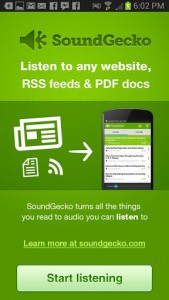 My RSS feed is full of content, and so is my personal collection of stories that I've saved for later with Pocket. It's all just sitting there waiting for me to read it. I don't always have the time to read a lot of the stories I like, though. For example, my RSS feed is filled with video game news sources while my job entails sorting through endless droves of tech news. I've been looking for a convenient way to get my news while I'm busy doing other tasks. SoundGecko is a service that will convert your RSS feed, and various web content to an MP3 podcast. The service works side-by-side with mobile apps on Android, iOS and Windows Phone.
What is it and what does it do
Main Functionality
SoundGecko will convert text based content from a specific URL into an MP3 audio file. You can download the file directly, listen to it on the web or access your complete library (linked to an email account) through the mobile application. For the purpose of this review I'm going to cover the Android application and of course the accompanying web service.
Pros
Simple, clean and responsive UI
Converts content to MP3 audio file
Multiple voices that sound pretty good
Add content via the web or your mobile device
You can also open and read the content within the app too
You can login with your Facebook credentials or register for a proprietary account

You can access featured content without being logged in
Cons
Free version only allows up to 30 articles, one custom station and a 4,000 word limit
Uses 35MB of RAM while running
Personal content requires you to be logged in
Discussion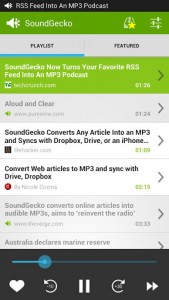 The mobile application already includes featured and popular content available for streaming. Once installed, you have instant access to pre-converted content even without signing in.
You can sign-in to the mobile SoundGecko app one of two ways, with your Facebook account or with a proprietary account linked to your email address. Like I already said, you don't need to sign in, but doing so will provide you access to content you've converted via the web service. If you don't sign in to the application you cannot use the personal content options, however.
There are two ways to add content to your library, and both methods are pretty easy. You can visit the SoundGecko website with any web browser and submit a URL, or you can use the integrated share features within Android. For example, you can share content from within other apps like Pocket, or Reader and you can even share it through a mobile browser. Usually, sharing content is done by pressing the menu button and choosing the "share" or "open with" function- after the content is open in your browser. Each app has a different way to share content however, so it's not practical for me to cover all the different ways.
Audio that is generally created with text to speech software like this often sounds inhuman and very robot-like. The audio streams created through SoundGecko are much more enjoyable. In fact, there are several different voices pronouncing converted content and from what I can tell the output is random.
If you have no desire to use the web service (accessed through a standard web browser) then don't worry, there's really no need. You can add and playback contently directly on your Android.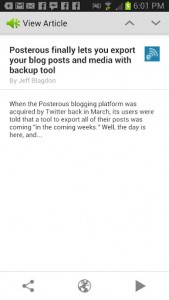 It really just works, there's not much else to explain about the mechanics of SoundGecko. You feed it content to convert and it will spit out a high quality audio file that you can listen to during a morning workout, while you're commuting or doing any other number of tasks for that matter.
As for the UI, there are only two tabs "playlist" and "featured." The playlist tab houses all your personal content that you've added through the app, or the web service. The featured tab includes a list of popular stories that were recently published. I'm not sure how they determine the featured content, but it really doesn't matter if you're using the app to listen to your own content.
The playback controls remain at the bottom of the screen, and there's also a 'like' button which obviously only works if you're signed into Facebook through the app.
Of course, as with most services like this you have the option to purchase a premium subscription or to continue using the free version. With the free version, you can only convert and listen to 30 web articles a day. There's also a word limit on content up to 4,000 words. In addition, you can only create one custom station with various website RSS feeds.
The premium subscription is $2.95 per month and it includes up to 100 custom stations, and a word limit of 30,000. In addition, you can choose what voice is used for the audio file, send multiple emails through the application (with audio links), and you can even convert PDF documents and email attachments. I only used the free version of the application so I cannot comment on the paid features individually. Keep that in mind when posting comments and questions.
For reference, SoundGecko uses about 35MB of RAM while running.
Conclusion and download link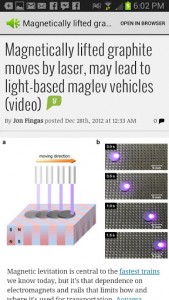 SoundGecko is ideal for anyone that wants to listen to their RSS feed or favorite web content via MP3 audio files like podcasts. The free version is more than enough for most folks, as you can convert and listen to up to 30 articles/pieces of content per day. Furthermore, the premium subscription fee ($2.95 per month) is not very much should you decide you want to upgrade. To top it off, the audio sounds great and the voices, while not completely natural, do sound a whole lot better than most text to voice conversions found elsewhere. Overall, SoundGecko is a great app for the job it does. Not that it makes a difference to everyone, but I will certainly continue using SoundGecko to listen to my content. I like my applications simple, and SoundGecko is no exception to that rule.
Price: Free, $2.95 per month (premium)
Version reviewed: 1.2.3
Requires: Android 2.2 and up
Download size: 1.4MB
Related Posts