As much fun as freelancing can be, one thing that no freelancer likes is the invoicing process. Whether you're an independent contractor or a small business owner, submitting invoices is tedious, time-consuming, and just plain annoying! It's often difficult to submit your invoices while you are on the go, which makes the invoicing process even more frustrating. So when I stumbled across Invoice ASAP, I thought it was worth checking out.
What is it and what does it do
Main Functionality
Invoice ASAP is an iPhone app that offers simple tools for sending invoices on the go, as well as secure cloud storage. But Invoice ASAP doesn't just let users send standard invoices: these invoices can include images, audio, and the signatures of important people.
Pros
Unlimited cloud storage
Customize invoices with your business logo or photos
Supports multiple users: perfect for getting your entire team on the same page
QuickBooks & QuickBooks Online Sync
Invoices can be numbered automatically by the app, or manually by the user
Capture signatures and apply them to your documents
Great UI that's simple to navigate: it's easy to see documents at a glance
As of this version (Version 4.0), app features integration with Zebra Bluetooth Printers
In addition to invoices, this app can produce estimates and sales receipts
Cons
You need to open a new account in order to even play around with the app
App is not capable of calculating tax rates based on your location or line of work
Discussion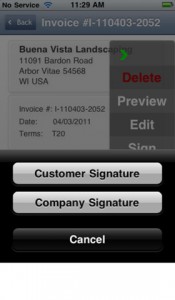 After signing up for your account, Invoice ASAP will give you the option of importing your contacts, or adding them manually later on. You can add all of your contacts, or cherry pick just the relevant contacts for your business. From there, you just tap the "+" sign to start a new invoice.
Payment options for your recipients include "due on reciept," as well as net 15, 30, 45, 60, and 90. PayPal and credit cards are accepted as forms of payment for your invoices. You have to manually set the rate of any sales or state taxes: the app cannot figure out the rate for you based on your ZIP.
I love the ability to attach pictures and audio. I could see this being useful if you have a business where you need to send visual updates of the work in progress: carpentry, custom bikes, design, and the like. Being able to send audio is a great way to personalize your invoice, or to provide confirmation of a verbal agreement that would be binding under legal proceedings.
In addition to creating invoices, Invoice ASAP also lets you create estimates for jobs, and even sales receipts. This is where the audio and pictorial component comes in handy: adding these elements to an estimate is a great way to set yourself apart from the crowd: you can showcase your previous work, and leave a personalized message!
Conclusion and download link
If you freelance or own your very own small business, Invoice ASAP is a great tool for requesting payments from your clients (or potential clients.) The app is free, syncs with QuickBooks, and offers a ton of great features: why not give it a try?
Price: Free
Version reviewed: 4.0
Supported OS: Requires iOS 4.3 or later

Download size: 10.5 MB
Invoice ASAP on Apple App Store
Related Posts