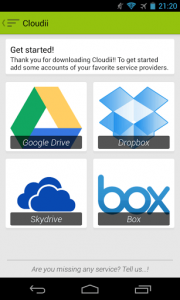 Cloud storage is pretty popular these days. In fact, lots of people use multiple services to store and access content. Previously, we've covered CarotDAV which is a Windows application that allows you to connect to multiple cloud storage accounts simultaneously through a single portal. It's great, except the driving idea behind cloud storage is that you can access it anywhere, at any time, from any device. What if you wanted to access all of your cloud storage accounts with a similar app via a mobile Android device? Cloudii is an Android application that will allow you to connect to Google Drive, Dropbox, SkyDrive and Box simultaneously.
What is it and what does it do
Main Functionality
Cloudii is a storage management application that allows you to connect to several cloud services all at once. Currently, it works with Dropbox, SkyDrive, Box and Google Drive but the developers state that more services will be supported in the future.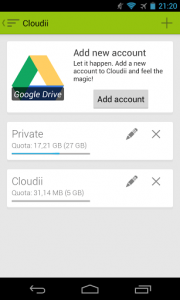 Pros
Connect to multiple cloud storage accounts through a single interface (Dropbox, SkyDrive, Box and Google Drive)
You can setup a folder to auto syncronize between the app (and associated cloud accounts) and your local storage

You can designate the sync interval (so that it's not constantly synching folders and files)

You can setup up a security code (PIN) in order to access the app and protect your content
You can backup your account data online, in case you ever switch devices or uninstall the app temporarily
Uses clean and responsive Holo UI
Cons
App is not free. It comes with a 14 day trial after which you have to pay a one time fee to continue using the app (prices are not very expensive, starting at $2.48)
All files are available in pdf format only
Files are opened in an external app after being downloaded (QuickOffice or a similar third party app)
Anonymous Statistics collection is enabled by default
Requires Android 4.0 and up
Discussion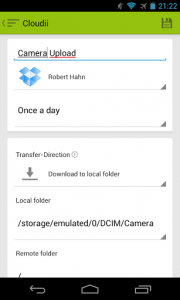 I'm always updating my various cloud storage accounts from my Android. Unfortunately, the current setup just wasn't working for me. It entails using each cloud storage app separately, which sometimes means that I have to transfer the same file multiple times through several different apps. Needless to say, it can become quite tedious after a while.
Cloudii allows you to connect to several different cloud services at once. Although, you still have to transfer files to each account individually at least it can be done through a single interface.
Obviously, the first thing you have to do is sign into each account respectively, or at least the ones you use anyway. You will then have to provide the application with permission to access and alter the contents of your cloud storage accounts. With each service this is done through a simple pop-up window or browser link.
Once everything is setup you can manage all of your connected accounts through just the one application.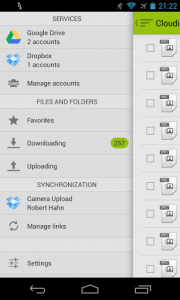 The user interface is clearly inspired by the Android Holo theme complete with a pop-out sidemenu. The menu can be accessed easily by swiping your finger from left to right across the screen. Navigation is simple and easy, which means even casual mobile users will have no problem finding their way around Cloudii.
Right at the top of the menu are the connected services, and tapping on one of them will open the appropriate storage account. You can always add an account through the sidemenu later, if you forgot to do that when you first opened Cloudii.
Other options include a downloads and uploads page, the application settings and of course an upgrade link so that you can purchase the premium version of the app.
Furthermore, you can designate any file as a "favorite," which will show up in the favorites list, and it's always accessible via the sidemenu. This will save you from having to navigate through various directories in each cloud storage account just to access files you use on a frequent basis.
Cloudii also includes a built-in auto sync function which will allow you to pair files or folders between your local storage and cloud storage. Essentially, you can setup the app to auto sync files or folders back and forth between each source. For example, if you have a particular folder that you would like synced with your cloud storage at all times this would be the way to do it.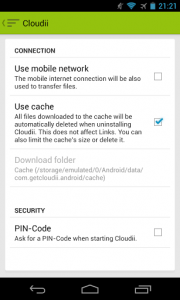 One thing odd that I noticed about that app is that all files are downloaded in pdf format. I'm not entirely sure if this is a feature locked down to the free version as a way to entice you to buy the premium license or not. That means, you really cannot edit the files unless you have a pdf editor installed on your device.
The application does not natively open files, like what Google Drive's app does. Instead, it will open the default application associated with various file types. For example, the pdf files open in QuickOffice on my device. This means you need a third party app to open the respective files, which won't be an issue for many people but can be for some.
Another troubling thing I noticed is that in the application settings, "anonymous statistics" is enabled by default. There were no prompts asking me if I'd like this function disabled or enabled when the app first started. That means it will collect anonymous usage data like crash reports by default. If you're like me and you don't really like participating in such programs you'll have to disable it manually.
For reference, Cloudii uses 48MB of RAM while running. Clearly, it uses a lot of system resources but that's to be expected with a cloud storage app of any kind. Still, keep that in mind if you decide to download and use the app.
Conclusion and download link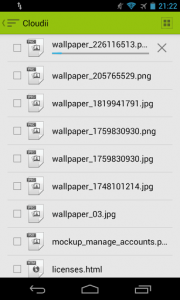 All in all, Cloudii seemed rather promising but when it boils down there are a lot of problems with the app as it stands. For one, the application only comes with a 14 day free trial, after which you must purchase a premium license to continue using it. Being paid wouldn't be such an issue if the app performed well, but in my opinion there are too many quirks with this app such as downloading all files in PDF format and using a relatively large amount of RAM. Still, it's difficult to deny the convenience of connecting to all your cloud storage apps through one single interface. As it stands though, I would steer clear of this one for now but keep an eye on it for the future.
Price: $2.48, $3.79, $5.10
Version reviewed: 0.32.4
Requires: Android 4.0 and up
Download size: 3.1MB
Related Posts