Nobody likes to be interrupted in the middle of dinner by a telephone call from a pollster. And yet, as a country, we're totally obsessed with polls as a way to measure interest or affection towards a certain subject or personality. Obviously, our polling obsession reaches a fever pitch during election season, but we love polls all year round. For the poll-obssessed, there's a social networking tool that's all the rage. Despite its funny name, Floop offers some seriously cool networking features for anyone who likes a dash of statistics thrown in with their social time.
What is it and what does it do
Main Functionality
Floop is an app that lets users weigh in with their thoughts on various issues. Users can create or respond to polls. Poll results are updated in real time on an attractive, interesting graph.
Pros
Engaged community with passionate points of view
Has a sleek, attractive design
Graphed responses of poll questions update in real time, and are very simple to read
Creating a new account is simple (and you aren't forced to login using Facebook, which is a nice bonus for people who feel limited by Facebook login-only apps)
Cons
Some user reviews have described the community as "rude and immature" and "cliquish": your mileage may vary
Discussion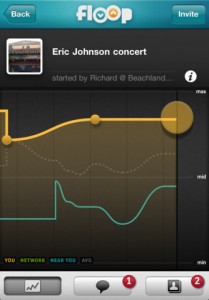 Floop is like the unholy love child of a Gallup poll and a TI-83 Graphing Calculator. I mean that in the best possible way, because Floop's graphs are far and away the coolest thing about this app. Not only do they provide a great visual breakdown of poll responses for the visually-obsessed, but the graphs update in real time!
Some suggested uses of Floop include tracking political trends over time ("What do you think of Obama" is a trend suggested by the developers, for example.) You can also use it to track predictions about who will be eliminated during the live broadcast of a talent show like "American Idol" or "America's Got Talent."
Floop is kind on a mongrel, but in a great way! It blends all the best aspects of graphing, group chats, and photo sharing. However, there are definitely plenty of complaints out there about some aspects of the community.
I can see where these users are coming from, but on some level, annoying people are just part of the social networking landscape. Floop might want to try appeasing angry users with a more robust system of moderators or stringent terms of conduct.
Conclusion and download link
Whether you like to chart the rise and fall of pop culture trends, or just want to gauge the temperature on a social issue with some of your friends, Floop offers a cool forum for gathering data about the people, places, and opinions that form your social loop.
Price: Free
Version reviewed: 1.1.1
Supported OS: iOS 4.0 or later

Download size: 10.5 MB
Related Posts