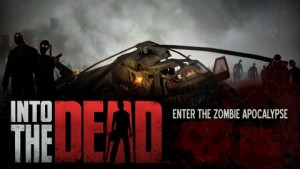 Is there anything finer than a zombie game? From The Walking Dead to Zombies, Run!, there are tons of amazing iOS titles that revolve around avoiding the undead. And yet, despite my love of zombie-centric games, it took me a long time to come around to Into the Dead. I'd heard good things about the game on its initial release, but I guess I was just burned out on endless runners at that point in my gaming life. But with new themes and game modes added in the most recent version, I decided to check it out. Plus, I realized that the game was made by PikPok, one of my favorite studios!
What is it and what does it do
Main Functionality
Into the Dead is a running game where the player must dodge left and right to avoid being tackled by ravenous zombies.
Pros
Very simple controls, and four different control methods to choose from
Great sound design
Haunting visuals
Tons of weapons, missions, and goals to collect
Tons of planned upgrades and updates to make the game more exciting…including a companion dog!
Cons
Somewhat light on story
Ads can only be removed via in-app purchase (though honestly, the ads aren't that invasive)
Zombie theme pack options are limited to just two offerings: football players and WWII soldiers
Discussion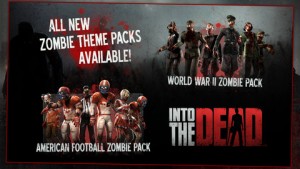 Into the Dead was developed by PikPok, a company that frequently collaborates with Adult Swim on their unique stable of games. You might know PikPok's work from titles like Monsters Ate My Condo, Robert Unicorn Attack, Shatter, and Monster Flip. I wasn't actually all that interested in Into the Dead until I realized that PikPok was the developer behind the game.
The graphics are stunning. The misty fields obscure some of the oncoming zombies, which makes the whole game feel extra spooky. Adding to the great graphics are the amazing in-game sounds. Into the Dead totally nails the unnerving atmosphere that a zombie game needs to be a success.
One thing that this game doesn't have is much of a story. If you gravitate to zombie games because of the great characters and human drama, you won't find that here. That doesn't mean the game is bad!
During each run, you'll generate coins based on the distance you run before getting tackled and eaten. These coins can then be used to buy pre-run perks like weapons, a speed boost, and bonus crates of weapons to grab along the way. In the future, one of these perks will be a companion dog that will likely bite and claw at any zombies that try to make a meal of you.
Conclusion and download link
If you love runners, zombies, or shooters, Into the Dead is a must-play title. The WWII theme is pretty awesome, as is the new Massacre game mode. With tons of achievements to unlock, it's hard to put down this addictive runner.
Price: Free
Version reviewed: 1.3.1
Supported OS: Requires iOS 5.0 or later

Download size: 37.2 MB
Into the Dead on Apple App Store
Related Posts