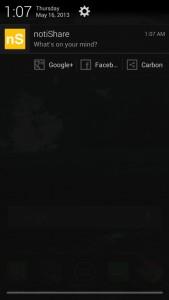 One of the most useful additions in Android 4.1 was the expandable notifications, which allows users quick access to various settings and functions of particular apps. For example, when you receive an email you can archive or reply to the message directly from the notifications tray. Unfortunately, some apps just haven't taken advantage of this feature yet, namely some of the social media apps. What if you could share to a social network directly from the same expandable tray? notiShare is a free Android application that will allow you to post to several social networks straight from the Android notification tray.
What is it and what does it do
Main Functionality
notiShare is an application that allows you to update several different social networks right from the Android notification tray. The various functions are basically shortcuts, so you also need to have the related social app installed on your device. For example, if you want to post to Facebook through notiShare you also need to have the Facebook app, or an equivalent third party app installed on your phone.
Adds a permanent notification to the Android status bar with social sharing shortcuts

Includes support for Facebook, Google+, Twitter, Odnoklassniki, and VKontakte by default
You can assign a custom social network too like Path, Tumblr or something else
Icon colors can be customized
You can designate one favorite app, and tapping the entire notification (not the smaller buttons) will open it

If you do not designate a favorite app, then tapping the notification will open notiShare settings

On pre-Android 4.1 devices you can still use the app but you only get one notification shortcut
Cons
It would be nice to see more customization support
Requires third party or official apps to work properly, the notification icons just serve as a shortcut
It's easy to forget tapping the "create" button to update changes and push the notification to the tray
The notiShare stays visible and is always yellow, even if you change icon colors (this can be removed by purchasing the donate version of the app)
There's no way to start the app automatically on boot (this is another feature exclusive to the donate version)
Discussion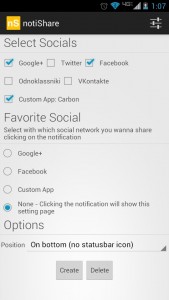 notiShare requires other apps to work properly, I'm fine with that as long as it works properly. However, some folks out there won't be okay with that. The good news is that you don't actually need the official app installed, a third party alternative will do just fine. You can map third party apps to work with the notification buttons.
By default, notiShare includes support for Google+, Twitter and Facebook but you can also setup a custom app. It's pretty straightforward actually, you just tap on the social icon in the notification tray and it opens the respective social app's sharing window. Each social app that you connect gets its own social icon and button in the tray and you can also designate a favorite network that will get a big button across the top of the notification. If that seems confusing then just direct your attention to the screenshot on the right. The large button across the top of the notification can be customized but if you leave it as-is then tapping on it will open the notiShare app settings.
You can format the notification several different ways through the app settings. It can display between other notifications, at the very top or on the bottom depending on your personal tastes. You can also hide the icon from the tray when it is collapsed. If you hide the icon, the notification always remains in the tray and you can see it when you pull down the notification bar, but the icon itself is invisible.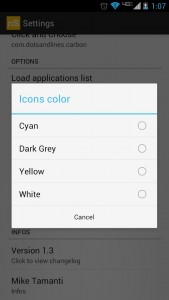 (If you use the app always remember to tap the "create' button after you change any settings, or else the updated notification won't be pushed to the tray.)
You can even change the color of the social icons from the default yellow to cyan, dark grey, or white. Keep in mind the notiShare icon also appears in the notification tray, and it will always remain yellow despite what color you choose for your icons.
It's not easy to describe just how convenient the app is. Sure, it's basically a simple launcher that opens the sharing window for various social networks, but it streamlines the entire process. By designating your favorite social apps, or the ones you use the most you can quickly make a post, upload a photo, or share a link just by pulling down the notification tray and tapping on the related icon. You don't have to fumble through the app tray, scroll through homescreens or even stop what you're doing, you can just pull down the notification bar, and the shortcuts are right there.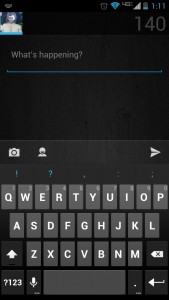 It goes without saying, but someone that doesn't use social media very much would not find this application very appealing.
It would be great to see more customization options, like using custom icons or even changing the application icon to a personal image. I wouldn't mind looking at a lovely picture of my misses every time I pull down that notification tray… on second thought, scratch that.
For reference, notiShare uses about 19MB of RAM while running in the background. While that's not too bad, it would be nice to see that number trimmed down a bit since the application does remain active constantly, although it's understandable if that's not possible.
Conclusion and download link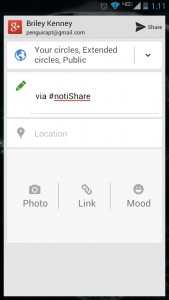 notiShare is a pretty convenient application that allows you to share to various social media networks by tapping on a designated icon in the Android notification tray. You can customize what network shortcuts appear in the tray, depending on which ones you use most. By default, notiShare includes support for Facebook, Twitter and Google+ but you can also add custom apps and third party variants, as well. It would be nice to see some better customization options, but at least you can change the color of the notification icons. You can also change the position of the notification in the tray, and hide the icon so that it doesn't always show- if that kind of thing peeves you. All in all, notiShare is definitely a no-brainer for anyone that's constantly sharing to social networks. However, if you don't bother with social media, then clearly don't bother with this app.
Price: Free, $1.34 (donate)
Version reviewed: 1.3
Requires: Android 2.0 and up
Download size: 1.1MB
Related Posts