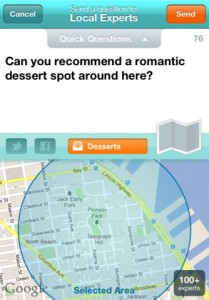 Crowdsourcing really is amazing. Whether you need recommendations for dinner, funding for an artistic project, or ideas on how to improve your company, harnessing the "power of the people" is a great way to make your life better. So when I stumbled across an iOS app that was called "the future of local crowdsourcing," I couldn't resist. That app is Localmind.
What is it and what does it do
Main Functionality
Localmind offers users a way to get recommendations for things to do and places to go, combined with real-time advice from people who are at those locations right now. This app can be used to determine the current wait time for a table at your favorite restaurant, or to learn if the opening act is still onstage at a concert you're on your way to see.
Pros
Ask questions about anyplace on Earth, or offer your suggestions to other users
Checking in is not required to use Localmind or getting your questions answered
In the past, Localmind has debuted "special" updates to coincide with big events like SXSW, offering special markers to education and entertain visitors at those events
Tons of sign-in options, including Twitter, Facebook, Gmail, and foursquare
Sign-in process is sped up by making things like liking your foursquare account or providing your phone number completely optional
Cons
If you are out of GPS range, the app defaults to downtown San Francisco (and the app sometimes has GPS issues in places where my other GPS-related and WiFi-enabled apps don't!)
Tutorial is a bit heavy-handed
When a user asks you a question, the attached map isn't zoomable: that makes it really hard to see exactly where this user has placed their pin…especially when the map doesn't load correctly!
Interface seems cramped: between the maps, social networking icons, and the actual answers, this part of the app needs a facelift
For an app that aims to be "the future of local crowdsourcing," most of my local questions were over a year old, perhaps indicating that the community isn't embracing this app
Main map screen doesn't let you swipe the questions out of the way: this makes the map really hard to view, particularly if you want to search for questions to answer by looking at the map and not by looking at the various categories
Discussion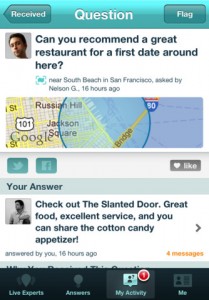 On the App Store page for Localmind, the developers share a number of glowing quotes from various publications. Mashable apparently referred to the Localmind concept as a "genius idea," while the New York Times wrote, "Localmind iPhone app is the future of local crowdsourcing."
Call me jaded, but whenever an app touts its service in such a highfalutin way, I put on my "skeptic specs." More often that not, an app that promises big surprises and amazing services is an utter disappointment.
You can invite friends to join you on Localmind from your Contacts, Twitter followers, Gmail contacts, or foursquare acquaintances. Trust me, you'll want to do this….because if you don't live in a major city, you are gonna need all the people you can find to interact with.
Sadly, despite the fact that I live in a small city with a nearby university, this app was kind of a ghost town in my area. Most questions had been asked about 9-12 months ago, though there were a few questions from 2 months ago.
The biggest issue I have with this app is the size of the map. It takes up less than half of the screen, and the bottom half of the screen where answers are displayed can't be dismissed. This tiny map makes the app feel more cramped than it needs to, and also makes it really hard to navigate and find a pin with a question worth asking. Even in a big city like New York, the small size of the map display makes it hard to see questions posed by the vibrant community.
Conclusion and download link
This app might be aiming to be "the future of local crowdsourcing," but it just feels like the "now" of metropolitan crowdsourcing. If you live in a smaller city, commuter town, suburb, or rural area, Localmind might disappoint you. Your mileage may vary, but for me, Localmind didn't have much "local" flavor at all. The service has a lot of potential, but it has yet to reach that potential outside of major cities.
Price: Free
Version reviewed: 2.1
Supported OS: Requires iOS 4.0 or later

Download size: 11.0 MB 
Related Posts