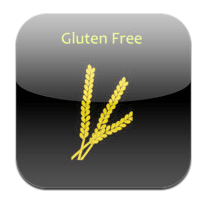 If you're anything like me, you have at least a couple of friends in your social circle who are doing the whole "gluten free" thing. Some people do it for health reasons, while others are just trying to cut back on food ingredients that could cause bloating or weight gain. But going gluten free is really tough. It can be really hard when you're starting out to figure out just what foods you need to avoid…and food labels aren't always as clear as they could be. If you're adopting a gluten-free lifestyle (or are trying to accommodate a friend or relative who is), the Gluten Free app from Tracy Corkett can be a big help.
What is it and what does it do
Main Functionality
Gluten Free provides a list of common food ingredients, each of which is color-coded to indicate whether it contains gluten or not.
Pros
Has a very simple scrolling interface
Easy to see whether something is gluten-free at a glance: red ingredients contain gluten, green ingredients are gluten-free
Huge list of ingredients to scan
Takes up very little space on your phone
Cons
No search functionality
App doesn't provide detailed information about what certain ingredients are constituted from–what is even in acacia gum, anyway?
Discussion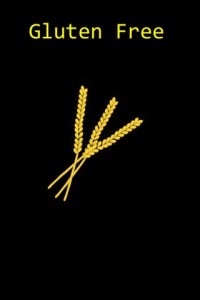 If you're cooking for someone with celiac disease, it can be really hard to keep gluten out of your kitchen. It's easy to avoid the obvious stuff like pasta and bread…but gluten shows up in all kinds of unexpected places like salad dressing, gravy, imitation seafood, chips, soy sauce, hot dogs, and even those self-basting, bake-in-the-bag poultry items. And just because something is wheat-free doesn't mean it's gluten-free! That's where an app like Gluten Free comes in handy.
But just because Gluten Free serves an important purpose, that doesn't mean that it's the best app out there. Despite serving a good purpose, Gluten Free could be improved in a couple of major ways. For one thing, the lack of a search function is kind of annoying.
It's easy to scroll through the whole list of ingredients to find what you're looking for, and you can click on a letter to skip down the list a bit. Still, a search function would be really nice. On the other hand, I appreciate the fact that the app includes alternate spellings for certain ingredients (such as tabouleh/tabouli), which makes it simple to determine what you're looking at.
One thing that could really take this Gluten Free app to the next level is an explanation of what some of these ingredients are. You can tap on the ingredients, but you don't get any additional information. It would be nice to know what is in some ingredients: what the heck is "Wild Emmer," anyway?
Conclusion and download link
If you need a quick pocket reference to determine whether a product has gluten in it, this free app is a good place to start. The interface may be a bit clunky, but the content itself is solid.
Price: Free
Version reviewed: 1.1.2
Supported OS: Requires iOS 5.0 or later

Download size: 4 MB
Gluten Free on Apple App Store
Related Posts