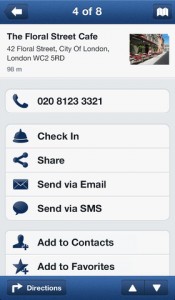 I've been thinking about moving lately: some interesting job listings and offers from friends have come across my desk lately, and it might be kind of fun. One thing I wouldn't relish, however, would be having to find new restaurants, hang-outs, and amenities in a new city. I mean, that is part of the fun of moving to a new city…but it can be overwhelming at first. However, with an app like NearMe in my arsenal, getting acclimated in a new city would seem less daunting.
What is it and what does it do
Main Functionality
NearMe is an iOS app developed by Yeerp Inc. The app takes your current location and finds nearby amenities and necessities, including banks, taxis, restaurants, coffee shops, hotels, supermarkets, mechanics, special attractions, bike shops, book shops, charity shops, movie theatres, malls, hardware stores, computer stores, furniture stores, gyms, salons, health food stores, hospitals, museums, pharmacies, post offices, train stations, and veterinarians. This wide array of services makes this app a great resource for travelers or recent transplants to a new city.
Pros
Great UI
Offers lightning-fast search results for places near you
Supports both keyword/name search and by-category browsing
NearMe offers a great blend of nearby places, alongside places that are a bit further afield (but still well within driving distance)
Get distances as km/m or miles/yards
App has the ability to save your favorite spots for later reference, as well as a detailed history of your past check-ins using this app
Check-ins through the app are supported by Facebook and Foursquare (you can also share your travels via Facebook and Twitter in-app updates)
Cons
American English speakers might dislike some of the "Britishisms" used in the app
Some results pulled in from Google are for places that are no longer in business (thankfully, you can call the listing right from within the app to verify their hours/existence.)
Discussion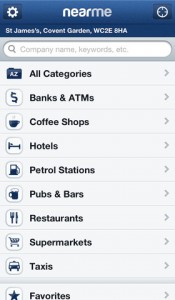 NearMe isn't just a great tool for helping people find their way around an unfamiliar city or neighborhood: it's also a great tool for bringing people together.
There's a robust array of sharing features: you can check in with Facebook or Foursquare, tell your friends about the location on Facebook and Twitter, and even send an email or SMS from within the app that's autopopulated with a location's name, address, and Google Maps URL. The latter feature is especially great if you're trying to meet friends for lunch and want them to be able to find the place with ease.
There really is an amazing array of preset categories for you to browse through. But if you still can't find what you need, you can do a keyword or name search. Both search results and category browsing results are lightning-fast: I was really impressed at how quickly listings showed up.
Some past user reviews have complained that the results were too limited to what's near your current location. I think that refers to a past version of the app: in this version, you can keep loading new results, getting locations that match your search parameters that are 40 miles (or more) away from your location.
Conclusion and download link
You should download NearMe and keep it on your phone at all times. It's a great, simple tool to use in case of emergencies: you could easily find a pharmacy, veterinarian's office, or hospital while traveling. It's a great, simple tool for non-emergenices, too. With a simple UI and very snappy, quick results, NearMe is a solid app that will keep you from ever feeling lost or out-of-the-loop.
Price: Free
Version reviewed: 2.1.2
Supported OS: Requires iOS 4.3 or later

Download size: 4.5 MB
Related Posts