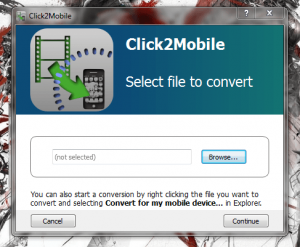 As mobile device screens and tablets get bigger over time, they become increasingly more useful for watching videos and movies. I mean seriously, they've successfully meshed a smartphone and tablet, to create a phablet (devices in excess of 5-inches). Quite honestly, especially when you have time to kill, watching videos and content on a smartphone is convenient. Problem is, there are all kinds of smartphones out there, big and small. It can be a real pain converting movies and videos into a compatible format. Additionally, converting videos for a specific screen size helps conserve precious storage space. Click2Mobile is a free Windows application that will allow you to convert video files of varying formats for use on a mobile device.
What is it and what does it do
Main Functionality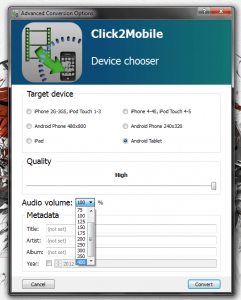 Click2Mobile is a free video converter that will help you quickly and easily convert files for playback on mobile devices. It includes pre-defined conversion formats for a multitude of devices like the iPhone 2G, 3GS, 4, 5, and several generic Android sizes. It also allows you to customize videos with appropriate metadata information like title, artist, year of release and more.
Pros
Simple and easy to use UI
Includes Windows right click context menu shortcut (convert to mobile option added)
Supports a handful of pre-defined mobile devices and resolutions
You can customize video metadata, audio volume levels (up to 400%) and output quality
Cons
No higher resolution offerings, HD support would be nice to see
Doesn't support very many Android devices; provides generic Android profiles
Doesn't support Windows Phone, BlackBerry, or Symbian
Doesn't support iPhone 5
Application settings are accessed through a different executable entirely (these need to be incorporated in the Click2Mobile program)
There are a bunch of bloatware apps included in the install package

During the Click2Mobile install, you will encounter prompts for three different bloatware programs including Fantasti Games, Fastest Chrome and Slam Dunk Mobile. Pay attention while installing and make sure you select "decline," when you're asked if you want to install the extra software or not. The included screenshots should give you some idea of what to watch out for if you decide to install Click2Mobile.
Discussion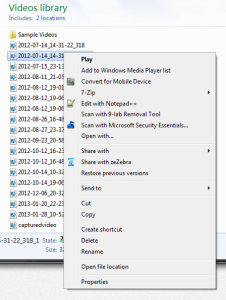 Click2Mobile only has a couple options in the main window. However, you can convert video files several different ways. The first of which is through the application itself, that much is obvious. You can also convert files instantly through the right click context menu in Windows. Right clicking on any file will bring up the standard Windows context menu, and you can select the "convert for mobile device" option. It will open the Click2Mobile file conversion Window.
Of course, through the application you can browse and locate the file you wish to convert. When the conversion window pops, you have to select the mobile device you'd like to convert the file for, the output quality, audio volume and then metadata information. Once you've selected the appropriate information you can click "convert" and the file will be optimized for your mobile device.
The full list of supported mobile devices and resolutions are as follows:
iPhone 2G-3GS
iPod Touch 1st-3rd Gen
iPhone 4-4S
iPod Touch 4th-5th Gen
Android Phone 480 x 800 resolution
Android Phone 240 x 320 resolution
iPad
Android Tablet (no resolution specified)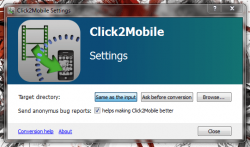 The application settings are not within the program. Instead, you have to access a separate executable from the Start Menu. This will open a dialogue window with two additional options. You can configure the target directory for converted files, and you can disable the anonymous bug reports feature (this is enabled by default).
The target directory for converted files is the same as the input file by default, but you can change it to a custom directory or you can have the application continuously ask you before the conversion process begins.
As for the file conversions, the length of the process is really determined by the size of the input file. The bigger the input file, the longer it will take to convert. The conversion window tells you the estimated time remaining, above a windows themed progress bar. Of course, there's a pretty large (and ugly) button to like the dedicated Facebook page, as well.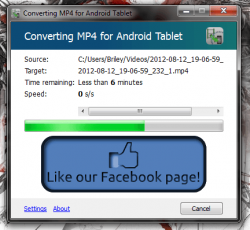 Video conversions work well, and there are a bunch of known formats supported including mp4, mov, mkv and avi. Unfortunately, the official website does not have a definitive list of compatible formats so others may be compatible, as well.
The converted videos came out pretty good, but the biggest issue I see is that there are quite a few generic formats missing. For example, a lot of the newer Android smartphones support resolutions much higher than 480 x 800.
For reference, Click2Mobile uses nearly 5,000KB of RAM while running.
Conclusion and download link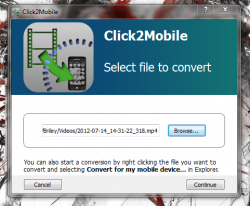 Click2Mobile does what it claims. However, it doesn't support very many devices. I'd recommend skipping on this and checking out one of the video converters mentioned in dotTech's review on best free video converter for Windows.
Price: Free
Version reviewed: 1.0
Supported OS: Windows (XP, Vista, Seven)
Download size: 10.7MB
VirusTotal malware scan results: 2/46
Is it portable? No
Related Posts