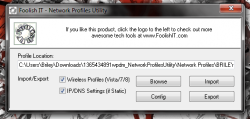 If you manage multiple Windows installs or even configure various network profiles on a plethora of PCs, then the task can become quite tedious. It's especially inconvenient if you need to set up a static IP or custom DNS server every time. Network Profiles Utility aims to eliminate that mess by providing a portable application that stores individual network connection profiles which can be imported or exported for use elsewhere.
What is it and what does it do
Main Functionality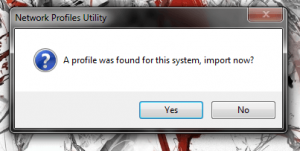 Network Profiles Utility essentially allows you to store network connection properties and settings which can then be restored on alternate machines. This saves the user from continuously setting up a proper network connection, especially when a static IP and custom DNS are involved.
Pros
Backup and restore wireless (WiFi) and wired network settings
Profiles are automatically restored if a profile is detected for your computer (but you're prompted first)

If no profile exists it will ask to create one

Profiles can be restored to other computers
Is portable
Cons
Once an action is completed, the application closes which is annoying if you don't want it to be closed (this setting can be disabled)
There are advertisements and "nag windows," but they can be removed by purchasing the premium version

Update: The ads and nag windows appear to have been removed in v1.0.2.

Doesn't list Windows XP as supported; I don't have an XP machine so I don't know if it works on XP or not
Discussion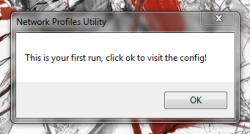 Network Profiles Utility is simple and straightforward. If you read a lot of my reviews then you've probably seen that a lot, but it's true nonetheless.
The general operation and purpose of the app is simple, backup all network configuration data so that you can quickly and easily restore it later. Right from the main menu of the application you can import and export network profiles, browse for locally stored (and related) files and adjust software settings.
On the very first run, the app will automatically open the configuration window which allows you to customize various settings. You can designate the profile storage directory, turn-off automatic restore and backup features, and more.
Of course, before doing anything with the app you need to set-up the network connection on the install computer. Once the network connection is all configured, you can load Network Profiles Utility and allow it to backup your settings. You can then take the file backups and store them with the app on an external USB drive. When connecting to a new machine, all you have to do is press import and then the previously setup network configuration will be applied.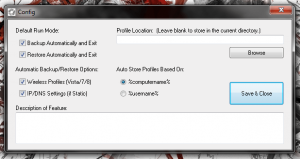 The beauty of this application is that it will save network admins quite some time. It will benefit anyone really that's constantly altering the network settings on their computer.
Unfortunately, Network Profiles Utility does include advertisements and occasional "nag screens," which can be removed by purchasing the pro version of the app.
For reference, Network Profiles Utility uses about 1,100KB of RAM while running.
Conclusion and download link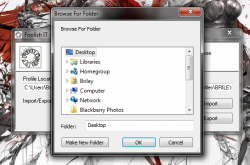 You'll notice this review is a little shorter than usual, but that's okay because Network Profiles Utility is extremely straightforward. With this application you can backup and restore various network configurations. The app's purpose is primarily to save you from continuously setting up the same network settings on a large number of machines or when you reformat. It's portable, and by default the application settings are stored in the same directory as the app making them easy to retrieve. This is not only useful for the average Joe but it also helps network admins who manage a large number of PCs. If you need the functionality provided by this program, then grab it.
Price: Free
Version reviewed: 1.0.2
Supported OS: Windows (Vista, Seven, Eight)
Download size: 97.2KB (zipped), 304KB (unzipped)
VirusTotal malware scan results: 0/46
Is it portable? Yes
Network Profiles Utility homepage
Related Posts